Jharkhand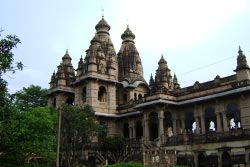 The Land of Forests, Jharkhand is a beautiful haven for nature lovers. Visit here to delve into its imposing hills, beautiful waterfalls, rich greenery and vibrant culture. Jharkhand has earned great popularity due to the dominant tribal population residing here. The state houses 32 tribes, including Munda, Santhal, Oraon, Kharia, Gond, Kol, etc. All these tribes take pride in their cultures and traditions till date and are away from the layers of modern world.  
Here are the top places to visit in Jharkhand:
Ranchi
The capital of Jharkhand, Ranchi is known with the name of the City of Waterfalls. It houses more than its fair share of waterfalls, including Hundru Falls, Dassam Falls, Jonha Falls, Panch Gagh Falls, etc. The city is also world renowned for its mineral resources, which has earned it the name of the 'Manchester of the East.' Visit here and fall in love with endless mountains and hills of Ranchi.
Jamshedpur
Rightly called the Steel City of India, Jamshedpur is the biggest city in Jharkhand. The city was founded by Jamsedji Nusserwanji Tata, a renowned Industrialist. It offers you numerous wonders of nature, which bestow immense pleasure to nature lovers. Some of the must visit places in Jamshedpur include Dalma Hills, Jubilee Park, Jubilee Lake, Tata Steel Zoological Park,  Dalma Wildlife Sanctuary, Hudco Lake, Bhatia Park, etc.
Deoghar
Deoghar, the City of Temples, remains a popular spot among spirituality seekers. This ancient town is dotted with uncountable spiritual places, including Baba Baidyanath Temple, Noulakha Temple, Mandar Hill, etc.
Hazaribagh
A land of rich flora and fauna, Hazaribagh literally means thousand gardens. This is popular as a health resort and sits at a height of 2019 feet above sea level. One can explore attractions like Hazaribagh Lake, Canary Hills, Hazaribagh Wildlife Sanctuary, Hazaribagh National Park, Suraj Kund and Bhadrakali Temple here.
Dhanbad
The 'Coal Capital of India', Dhanbad remains one of the fastest growing cities in the country. It is known for its distinctive beauty sprawling across picturesque valleys and lush green forests. Catch the views of splendid dams, refreshing lakes, and serene temples. Among the top places to visit in Dhanbad, Topchanchi Lake, Maithon Dam, Birsa Munda Park, Charak Pathar and Parasnath Temple remain on top.
Bokaro
Bokaro remains one of the most visited tourism destinations in Jharkhand. It is known for various steel and coal industries dotted here. Numerous leisure travellers also visit here every year to unwind amidst ample of greenery sprawling here. Take leisurely walks to relish exquisite surroundings of this city. The city has numerous places to visit, including Kali Mandir, Jawahar Nehru Biological Park, Garga Dam, and Ram Mandir.   
Shopping
Jharkhand is a blessing for those having fascination for tribal handicrafts. They depict rich culture and heritage of the state and can be found in all local markets. Paitkar paintings are also popular here made my local artisans. Apart from this, one can also pick stone carvings, wood craft, bamboo works, ornaments and metal work from here. Check out government emporiums for authentic souvenirs at great prices. 
How to Reach
Birsa Munda Airport in Ranchi is the primary airport connecting the state with major Indian cities like Delhi, Mumbai, Kolkata and Patna. Jharkhand is well linked with rest of the country via Indian Railways with major railheads in Ranchi, Jamshedpur, Bokaro, Dhanbad and Giridih. Road connection is also available from other states like Bihar, Chhattisgarh, West Bengal and Orissa.  
Free Tour Customization
from Experts