Mysore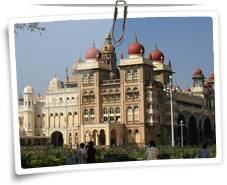 The Glorious Land
Mysore, the land of royalty is a famous tourist destination of South India. Mysore is synonymous with stunning palaces, beautiful gardens, mind blowing architecture, paintings and high quality silk fabric. Mysore is located at a distance of around 140 km from Bangalore.
Climate
Mysore enjoys a pleasant climate round the year. During the summers the temperature ranges from  21°C and 34°C and in the winters it ranges from 16°C to 27°C.
Best Time To Visit
From October to March
Attractions Of Mysore
Maharaja's Palace
Visited by many a tourist, Maharaja's Palace is famous for its architectural beauty: exquisitely carved doors, majestically sculpted pillars and the golden howdah. The palace was designed by the famous English architect Henry Irwin.
Jaganmohan Palace
Constructed by Maharaja Krishnaraja Wodeyar, Jaganmohan Palace impresses its visitors with its beautiful stained glass shutters and ventilators, refreshing garden and art gallery. The gallery houses amazing paintings, sculptures and musical instruments of the bygone era.
Chamundi Hills
The Chamundi hills is named after goddess Chamunda Devi who was the patron deity of the royal family of Mysore. Perched on the hill is a famous temple of  Chamundeshwari Devi. Located near the temple is the statue of Mahishasura, the demon killed by the goddess. There is also a huge monolith of Lord Shiva's pet, Nandi.
Brindavan Gardens
Ideally located near river Kaveri, Brindavan Gardens is situated a little away from Mysore. This mesmerizing garden has a musical fountain, which looks awesome when played in the evening.
Somanathapura Temple
The architectural charm of the Somanathapura Temple attracts visitors from far and wide. It is located 42 km from Mysore.
Mysore Zoo
Established in 1892, the Mysore zoo shelters a wide variety of wildlife species.
How To Reach
By Air
Bangalore Airport is the nearest airport from Mysore located at a distance of 140 km from it. Regular flights from Bangalore airport connect different cities of India.
By Rail
Regular train service makes Mysore easily reachable from the various cities of India such as Delhi, Mumbai, Bangalore and Chennai.
By Road
Mysore is well connected to the important cities of Karnataka by road.
Accommodation
Mysore offers a diverse range of accommodation options catering to the different needs of different tourists. From luxurious heritage hotel to budget hotels, all are available in Mysore.
Shopping
Shopping in Mysore is incomplete without buying the silk saris or fabric. Mysore is famous the world over for its silk. Sandalwood crafts and paintings are the other famous shopping items in Mysore.
Free Tour Customization
from Experts