Kullu Manali Tour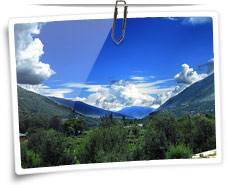 Twin-Valleys of Himachal Pradesh With Most Enchanting Beauty
Explore the most divine natural beauty amidst snow clad peaks, grassy slopes, blooming flower orchards and gushing rivers along with the century old temples, forts, and monasteries. Visit Kullu-Manali to experience the most charming and beautiful valleys of Indian Himalayas. Situated at a distance of 570 km from Delhi, Kullu-Manali lie in the northwestern region of Himachal Pradesh. The destination offers various kinds of adventure activities like trekking, mountaineering, skiing, water rafting etc. to make your holidays memorable for a lifetime.
Kullu
Popular as 'Silver valley' of Himachal Pradesh, Kullu lies in between Dhauladhar Ranges and Pir Pamjal Ranges of the Himalayas. Situated at a height of 2050 m above sea-level, this paradise of greenery, snow and crystal clear waterways draws lakhs of tourists from the world around. It is a dream destination for adventure enthusiasts and honeymooners. The months of May-June and September-November are considered ideal to visit Kullu.
Manali
Imposing the similar kind of natural beauty and adventure sports as in Kullu, Manali is a much frequented hill station situated amidst sky touching deodar and pine trees. The city lies 40 km from Kullu and is overlooked by the snow capped peaks of the Himalayas. Manali is home to century old temples and monasteries like Hadimba temple, Manu temple and the Gadhan Thekchhokling monastery.
Tourist Attractions At Kullu
Raghunathji Temple is considered the most important and the holy place in Kullu. Dedicated to Lord Raghunath or Rama, this temple was built by Raja Jagat Singh, the king of Kullu. The idol of the temple is believed to be brought from Ayodhya (the birth place of Lord Rama).
The Great Himalayan National Park is mostly visited by adventure lovers. This national park is home to around 300 species of avifauna and more than 30 species of mammal along with a diversified flora.
Bijli Mahadev Temple, located at 10 km across the Beas river, is dedicated to Lord Shiva. The temple is named after a 20 meter high rod projecting out of the shrine, which is said to catch lightenings from the sky and destroy them below the Shivlingam. The temple also offers a panoramic view of the entire Kullu valley.
Basheshwar Mahadev Temple is a 9th century architecture and is dedicated to Lord Shiva. The temple is visited for its intricate stone carvings.
Attractions at Manali
Hadimba Temple or Dhoongri Temple is an important structure, historically and archeologically, in Manali. Dedicated to Goddess Hadimba, wife of Bhim (the hero of the epic Mahabharata). The temple located amidst wooden forest of deodar. It also hosts a grand festival in the month of May every year.
Manu Temple is dedicated to the great sage Manu, who is supposed to be the creator of the earth. This temple is believed to be the only temple of Manu in India.
Manali also has a few newly constructed colorful monasteries. These monasteries are considered the best for the shopping of carpets and other Tibetan handicrafts.
Vashisth, a small village located on the left bank of river Beas towards Rohtang pass, is famous for hot water springs and a temple dedicated to Vashisth Muni. There is another Temple of Lord Ram here. The hot water sulphur springs are fitted with Turkish style showers for bathing.
Nehru Kund, 5 km from Manali, is a natural spring of cold clear water named after Pt. Jwahar Lal Nehru. The spring originates from the Bhrigu lake situated high-up in the mountains.
Solang Valley, 13 km, is a hot spot sandwiched between Solang village and Beas Kund. Offering wonderful ski slopes, the valley is visited to have the majestic views of the glaciers and snow capped peaks.
Arjuna Gufa (cave) is located at 4 km from manali. It is the place where Arjuna (the hero of the epic Mahabharata) meditated.
Manali Wildlife Sanctuary, first notified in the 1954, is the best place to spot the rarest variety of Himalayan flora and fauna with animal species like lion, snow leopard, ibex etc.
Shopping
The artisans of the twin valley of Kullu-Manali are expert in making shawls. Besides one can shop for hand-woven goods and pillbox Kullu topis or caps, and various Tibetan handicrafts, amulets, dorjes (thunderbolts), masks, musical instruments and thangkas.
How To Reach
By Air
Bhuntar airport, 10 km, is the nearest airport, which is connected by air to cities like Delhi, Shimla and Chandigarh.
By Rail
Nearest rail heads are Chandigarh and Pathankot.
By Road
Kullu and Manali are well connected by road with Delhi (789 km), Ambala (606 km), Chandigarh (556 km), Dehradun, Haridwar, Shimla, Dharamsala, Chamba/Dalhousie, Ropar, Bilaspur and Mandi.
Free Tour Customization
from Experts