Madhya Pradesh
Omkareshwar
Omkareshwar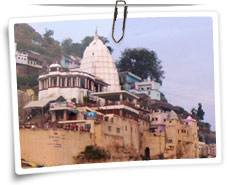 Attracting pilgrims from across the world, Omkareshwar is a holy site perched on the beautiful Mandhata hill on the banks of the river Narmada. It is one of twelve Jyotirlingas of Lord Shiva. Omkareshwar is a beautiful island fashioned in the form of the most sacred Hindu symbol, 'Om'. The island has two temple, one is dedicated to Omkareshwar and the other one to Amareshwar. According to the legend the Vindhya mountain offered prayers to Lord Shiva at Omkareshwar and the prayers got answered. The other legend associated with this holy place goes that upon the request of the heavenly deities, the Shivalinga split into two, one half being Omkareshwar and the other Amareshwar. There are several Hindu and Jain temples located in Omkareshwar.
Attractions of Omakareshwar
Sri Omkareshwar Mahadeo Temple
Sri Omkareshwar Mahadeo Temple is the holiest of all the temples in Omkareshwara. It enshrines the Jyotirlingam, which is called the lingam of light. It is one of the twelve Jyotirlingams in India. Sri Omkareshwar Mahadeo Temple is also known as the temple of Sri Omkar Mandhata. Its flawless carvings and wall paintings deserve mention.
Siddnath Temple
Renowned for its fascinating architecture, the Siddnath Temple is a testimony to the arresting early medieval Brahminic architecture. The carved elephants at its outer boundary is quite noteworthy. The roof and the upper portion of the temple are adorned with exquisite carvings.
Twenty four Avatars
A group of the Hindus and the Jain temples reflecting the marriage of different styles of architecture.
Satmatrika Temple
A cluster of ancient temples whose history dates back to the 10th century. These temples are located at a distance of 6 km from Omkareshwar.
Kajal Rani Cave
Visited by many a tourist who come to Omkareshwar, Kajal Rani Cave is located 9 km from Omkareshwar. Nature has decorated this place with immense scenic beauty.
How To Reach Omkareshwar
By Air
Indore is the nearest airport located at a distance of 77 km from Omkareshwar. The regular flights from here connect Omkareshwar with the main cities like Delhi, Mumbai, Bhopal and Gwalior.
By Rail
Located 12 km from the city of town of Omkareshwar, Omkareshwar Road is the nearest railway station.
By Road
Omkareshwar is well connected to the important cities like Ujjain and Khandwa by road.
Accommodation In Omkareshwar
Decent accommodation options are available in Omkareshwar. There are several budget hotels, dharamshalas and guest houses available here.
Free Tour Customization
from Experts