Lakshadweep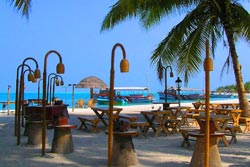 Housing the most exotic collection of beaches, Lakshadweep is a heaven for the lovers of beach holidays. This smallest Union Territory of India seems like a dream with all the hues of blue and green. Visit here and get astonished by its 36 islands spreading across32 sq. kilometres. Come and rejuvenate at the most pristine shores, adorned with swinging palm trees and creamy sands under your feet.
Here are the top places to visit in Lakshadweep:
Minicoy Island
Minicoy Island is one of the 36 small islets dotted in Lakshadweep. The island is a secret gem nestling with Arabian Sea from all sides. The tiny island is sprawling over 4.801 sq. km and is extremely popular for its flamboyant coral reefs, old-fashioned white-sand beaches and fresh water of the infinite ocean. This second biggest island of Lakshadweep houses numerous luxury resort promising a romantic stay experience amidst nature.  The island is ideal to partake in some exciting water activities as well, including tuna canning and tuna fishing.
Agatti Islands
If coral reefs fascinate you to the core, then a visit to the Agatti Island is a must for you. The island lies on one of the coral atolls and is sparsely populated. The white sand of the beaches here looks perfect with crystal clear waters of the sea. Agatti Island is the only island which has its own airport in Lakshadweep and thus, it remains a popular choice among beach enthusiasts. Most of the locals here speak English and Malayalam and are welcoming in nature. This island is a heaven for those interested in Scuba diving as you get to spot the most unique sites of colourful fish and stunning corals here.
Those looking for culturally rich states of India, Rajasthan, Punjab, Gujarat, Haryana and Bihar top the charts. The locals of these states follow their cultures and religions by heart which can be seen in their traditional attires, festivals and lifestyle.
Bangaram Island
Bangaram Island cuddles a lagoon created by the Arabian Sea. Visiting Bangaram is truly an enchanting experience as you get to enjoy a combination of immaculate beaches, lively coral reefs, different fish species and a range of adventure sports here. Numerous beach resorts have been opened at this island to offer a calm staying experience to the travellers. They cut you from the outside world and let you take a nap in the lap of Mother Nature.
Some states of India are known for their serenity as they are still far-away from the modern layers. Visit Mizoram, Meghalaya, Manipur and Nagaland to experience a whole new side of India which is simple yet stunning, unique yet familiar.
Kavaratti Islands
Kavaratti Island is an emerald gem of the Lakshadweep islands. Visit here and catch the most dramatic looking vistas of the clear sea water. Kavaratti is a secluded island with very less population. This makes this island a very serene haven to unwind at its less visited beaches.  The Kavaratti marine aquarium here is a must visit place where you can spot some unseen facets of marine life such as impressive coral reefs, a variety of fish, sea turtles and underwater seaweeds. Adventurous souls can partake in some exciting activities like scuba diving, Jet Ski, kayaking and motor boat ride.
Kalpeni Island
Kalpeni islands comprise a group of three islands which look absolutely stunning. These three gems - Cheriyam, Pitti and Tillakkam – together make the Kalpeni Islands one of the most visited places in Lakshadweep. The islands have earned popularity due to the beautiful lagoon here. It is perhaps the best place to delve into the coral life and see some unseen colours of nature.  Relax at the shore or dare to partake in activities like Scuba Diving, Snorkelling, Reef walking or canoeing – there is everything for everyone.
Kamdat
Those seeking sun bathing must plan a visit to Kamdat known for its clean silvery white beaches. Though this island is really tiny, it never fails to impress travellers with its beautiful lagoon.
Food
The food of the Lakshadweep islands can be termed as fresh. Seafood lovers can savour the taste of some of the best seafood dishes served here with generous use of coconut. From sea weed to crabs, the menus of the restaurants here have everything to offer.  The taste is though simple, the freshness of the dishes adds to the flavours. Rice remains the staple food of the islands served with numerous vegetarian and non vegetarian dishes. Vegetarian food of Lakshadweep is highly influenced from that of Kerala.
Shopping
Shopping in Lakshadweep is all about staying close to the beach. It is a blissful experience to mingle around with happy locals selling some beautiful local souvenirs such as shells, oysters, corals and stones. Many locals also make and sell handmade jewellery items by using sea products. Other exciting mementoes are armlets, bracelets, spoon and forks made of tortoise shells.
How to Reach
Agatti Aerodrome, the main airport of the islands, is well linked by regular flights to Kochi, an important domestic and international airport of India.  Lakshadweep Administration also organises few passenger ships connecting Kochi and Lakshadweep.
Free Tour Customization
from Experts