Ex-Mumbai / Pune
South of Mumbai
Alibag
Alibag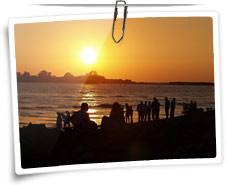 Relish Your Vacations On The Unspoiled Beaches Of Alibag
Visit long and clean sandy beaches, small boats rocking the sea and lush greenery in the coastal town of Alibag. Located 35 km from Mumbai and about 140 km from Pune, the coastal town of Alibag or Alibaug is the headquarter of Raigad District in the Konkan region of Maharashtra. The town dates back to the 17th century, when it was developed by Sarkhel Kanhoji Angre, the Naval Chief of Shivaji Maharaj. Despite being close to Mumbai, the town is a pollution free zone where tourists can enjoy a better standard of living.
Alibag: The Hub Of Industries
Tourism is one of the main industries of the town. Besides one can find a number of hotels, resorts and lodges at Alibag. The industrial development in Alibag started in the late 90's with the set up of Rashtriya Chemicals and Fertilizers, Ispat Industries (Mittal Group), Vikram Ispat (Birla Group), Gas Authority Of India Limited (GAIL), HP LPG etc.
Beaches
Serene beaches are the main characteristic of this coastal town, which boost its travel and tourism industry. Alibag beach is the main beach from where one can see the Kulaba fort (not to be confused with Colaba of Mumbai). Several other important beaches, situated in vicinity at Alibag, are Varsoli Beach (home to a naval base), Akshi Beach, Nagaon Beach (famous for coconuts and betel nuts), Kihim Beach (famous for dense forests and coconut trees), Awas Beach, Saswane Beach, Rewas Beach, Mandawa Beach, Kashid Beach etc.
Other Attractions
Forts
Historic forts like the Hirakot and Kulaba Fort serve to be the evidences of Maratha's bravery. The Kulaba Fort gets encircled with water during the high tide.
Magnetic Observatory
Established in 1904 by the Indian Institute of Geomagnetism, this old Geomagnetic Observatory is also of great historical importance. It serves as an important site to be visited by the students of Science stream.
Chaul
It is a historic town situated about 15 km from Alibag. It is visited for its Portuguese ruins, old church, Buddhist caves, the Hamam Khana and an ancient temple.
Other Temples
Old Hindu temples like Uma-Maheshwar temple, Balaji temple, Kanakeshwar temple, Vikram Vinayak temple (Birla Temple), Datta Mandir and Hingulja Mandir are several religious places worth visiting in Alibag.
Best Time To Visit
The climate is tropical and soothing throughout the year, but for those who relish boating, the best time to visit is from October to May (post-monsoon).
Accommodation
Despite being a small town, Alibag offers a number of hotels that suit one's budget and pocket. Star-rated and luxurious hotels are very few in number. Apart from that, one can get private bungalows for an overnight stay.
Getting There
By Air
Mumbai (35 km) is the nearest railway station.
By Rail
The nearest railway station from Alibag is Pen (28 km), on Konkan railway line. Panvel is another convenient railway station at a distance of about 60 km.
By Road
Alibag is well connected to Mumbai, Borivali, Pune, Thane and Kalyan and other major cities of India.
By Ferry & Catamarans: Alibag is easily accessible by Ferry and Catamarans through sea. These launches and catamarans are available from Gateway of India to Mandwa and Revas, from where one needs to avail the bus/taxi. But this mode of transport is not recommended during monsoon season.
Free Tour Customization
from Experts