Manipur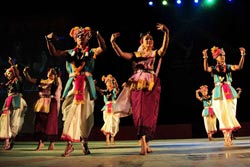 Manipur, often termed as 'Switzerland of India', is a blissful gem of North East India. The beauty of Manipur is soul captivating. You witness every facade of Mother Nature here, including dense forests, rolling hills and far stretched emerald tea gardens. The state is known for its vibrant mix of classical dance, delicious cuisine and traditional aura which make it stand out of all other Indian states. Travel here and get baffled by its charismatic nature which is unmatched and unreal.
Here are the top places to visit in Manipur:
Imphal
The capital of Manipur, Imphal is a serenity oozing city nestling with the splendid Manipur valley. The city has been adorned with flourishing forests and sprawling grasslands.  Travellers visit here to enjoy its scenic attractions which include Loktak Lake, Sirohi National Park, Manipur Zoological Gardens, Matai Garden and Red Hill Lokpaching. Imphal also boasts a rich history which can be seen in Kangla Fort, Manipur State Museum and Sekta Archaeological Living Museum located here.
Ukhrul
A delight for every cameraman seeking perfect pictures of nature, Ukhrul charms you with sights of splendid valleys, hills, waterfalls and streams. Nature lovers can have a whale of a time here by visiting Khayang Peak, Shirui Kashung Peak and Kachouphung Lake. Khangkhui Cave, an ancient limestone cave, of Ukhrul is also worth exploring.
Bishnupur
Bishnupur treats you with never ending expanses of verdant forests and rambling grasslands. It is known as a popular pilgrim destination with numerous temples under its horizon, including Pancha Ratana, Susunia Pahar, Dal Madol, Shyamrai Temple and Jor Bangla Temple. For the lovers of flora and fauna, Keibul Lamjao National Park is also a blissful retreat.
Thoubal
If you are an adventurous soul looking for some exciting activities then trekking and hiking in Thoubal will definitely please you. A visit to Thoubal gifts you with flourishing greenery, striking rivers and serene lakes. The sights of banyan trees nestling along the roads are common yet fascinating here. Do spend some moments of peace along the Thoubal River, Imphal River, Ikop Lake, Waithou Lake or Lousi Lake to cherish the best vistas of nature.
Chandel
A beautiful gateway to Myanmar, Chandel is home to a rich collection of flora and fauna. It is here where you can find some of the rarest species of animals and plants. Though Chandel has a handful of places to visit like Yangoupokpi-Lokchao Wildlife Sanctuary, Moreh and Tengnoupal, the nature sprawling here keeps travellers hooked forever.
Food
Manipuri cuisine is though simple in terms of ingredients, its lasts forever on your tongue. Chamthong or Kangshoi (stew made with seasonal vegetables) is consumed in every household. Eromba is another popular dish made with a tonne of vegetables along with some dry fish. Morok Metpa is a spicy chutney of the state made using dried green chillies and some Ngari fish. Paaknam, a delicate fish cake, makes a delectable snack item. Nga-Thongba is also loved by those having an inclination for fish dishes.  
Shopping
Manipur is known for traditional handloom clothes and handicrafts. As the locals here are extremely creative, one can see numerous locals indulging in weaving. Manipuri bed covers of Moirangfee and flower designs are extremely popular. One can also bag artistic handicrafts made using bamboo, papier mache, decorative ivory, dolls and jewellery. Hand-woven textiles of the state are world renowned and look extremely graceful. Some of the popular markets to explore here include Paona Bazar, Khwairamband Bazaar, Nagampal Market, Tera Bazaar, GM Hall, etc.
How to Reach
Municipal Airport (IMF) receives regular flights from other major cities. Imphal does not have a railway station of its own and the closest station one is Daotuhaja approx 91 km away. One can also get regular buses to Imphal from all other parts of India. 
Free Tour Customization
from Experts