Bodhgaya Tour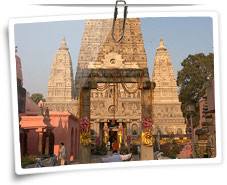 The Land Of Wisdom, Courage And Compassion
Bodhgaya is the sanctified land where Gautam Buddha attained enlightenment. Located in the Gaya district of Bihar, Bodhgaya is one of the revered pilgrimages of the Buddhists. There is a Bodhi tree here under which Gautam Buddha used to meditate and attained Nirvana . Offering peace in plenty, Bodhgaya attracts tourists from far and wide. Having a profound connection with the life of Gautam Buddha, Bodhgaya is a great destination to visit.
Attractions of Bodhgaya
Mahabodhi Temple
Dedicated to Lord Buddha, Mahabodhi Temple marks the place where Gautam Buddha attained enlightenment. It was built by the great king Ashoka in the 3rd century. He played an important role in spreading Buddhism across India. Later new structures were added to the temple by the other rulers. The temple enshrines a giant image of Lord Buddha in a sitting posture touching the earth with his right hand.
The Great Buddha Statue
It is a beautiful statue of Lord Buddha in a meditating posture. Its foundation was laid with the help of the Daijokyo Sect of Japan. The statue is made of red granite and sandstone and has a height of 80 feet. The construction of the statue involved 12000 workers who completed it over a period of seven years.
Dungeshwari Caves
A few km drive from Bodhgaya will bring you face to face with the fascinating Dungeshwari Caves. The caves highlight the incidences from the life of Lord Buddha 
through amazing statues, stone carvings, paintings and graphics.
The Bodhi Tree
Held in high respect by the Buddhists, the Bodhi Tree is a blessed tree under which Lord Buddha attained enlightenment.
Bodhi Sarovar
Steeped in holiness, Bodhi Sarovar is a pond where Gautam Buddha bathed before sitting in deep meditation.
Chankaramana
After attaining enlightenment Lord Buddha was in dilemma whether the time was ripe to reveal the truth to the people of the world. While thinking he was walking and where ever his feet landed, lotus flowers sprang from the ground. And it was at Chankaramana where the flowers emerged.
Free Tour Customization
from Experts