Honeymoon Tourist spots in Kerala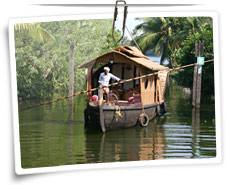 Romantic And Unforgettable Honeymoon In Kerala
Get ready for beautiful beaches, lakes, backwaters, hill stations, and houseboats for a lively honeymoon trip in Kerala. Kerala is fast emerging as the paradise for honeymoon couples because of the stunning beauty of destinations like Kumarakom, Vembanad, Cochin, Allepey, Periyar and Trivandrum. A tour to Kerala offers some of the best romantic honeymoon destinations in India.
Kerala Honeymoon Attractions
Backwaters
Relaxing on a houseboat and floating along tranquil backwaters with your loved one, listening the murmuring of water ripples, the whisper of the wind and the calls of birds as they fly across an azure sky and counting the stars in the tropical night- this can be the best part of your honeymoon trip in Kerala. One can visit beautiful destinations of Kumarakom, Vembanad, Kuttanad, Munnar, Kovalam and Cochin, along with the fertile green land, abundant sparkling water and clear blue sky while travelling through Kerala Backwaters. Steeped in greenery and natural beauty, these Backwaters and Kettuvallams (houseboats) are the most important attractions of Kerala.
Beaches
Kerala beaches serve the most charming places for relaxing and enjoying the pleasurable holidays. Magical waves, smiling sun, swaying palm, mouth-watering sea food, Chinese fishing nets and traditional snake boat races are experiences of a life time.
Tea-Coffee Gardens and Spice Plantations
Tea and Coffee Gardens are another mesmerizing attractions in Kerala. Lush green gardens at Munnar and Periyar, carpeted with aromatic tea, coffee and spices, also play an important role in the country's economy.
Ayurveda
Practiced for thousands of years in Kerala, the science of Ayurveda cures all kinds of diseases and disorders with medicinal plants, herbs, milk, medicated oil etc. One can find a number of Ayurveda and Spa resorts/centres in every part of the state. This natural process of healing removes stress and rejuvenates your mind, body and soul.
Kathakali Dance
The word 'Katha' means story and 'kali' means play. In this dance pattern, the performances the dancers play various characters such as God, demon, hero and heroines. Kathakali is known for heavy make up and elaborate costumes. Started in the 17th century, this Indian classical dance form brought international fame to Kerala. This art form requires vigorous training of about 8-10 years. From costumes to mudras (hand gesture), and facial expressions to body movements, everything is extraordinary about Kathakali dance.
Wildlife Sanctuaries
If you are an adventure lover and wish to go Safari with your partner, Kerala is a notable destination with about 10,000 species of plant, 102 species of mammals, 476 species of birds, 202 species of freshwater fishes, 169 species of reptiles and 89 species of amphibians. Eravikulam National Park, Periyar Wildlife Sanctuary and Kumarkom Bird Sanctuary are the renowned places for Keralan wildlife.
Festivals
'Onam', the 2000 year old festival is the most important cultural part of Kerala. Dedicated to heavenly deities, nature, plants, animals, homes and human bonds, Pongal is a harvest festival that lasts for four days. Besides, people in Kerala also celebrate 'Elephant Festival' with the same zeal and enthusiasm. Dedicated to Lord Shiva, the Elephant Festival is also called 'Thissur Pooram'. Small elephant processions and fireworks are the main highlights of the festival. Celebrated in the month of April/May, the festival lasts for 7 days.
This way, Kerala offers you a world of choices for your romantic honeymoon holidays. Plan your honeymoon tour to Kerala to enjoy your holidays with exceptional scenic with Green Paradise.
Free Tour Customization
from Experts