Chhattisgarh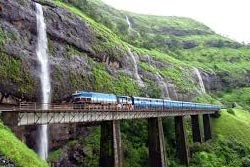 The newly formed state of Chhattisgarh remains an astonishing destination to plan your holiday in India. The state offers you a perfect fusion of tribes, history, nature and wildlife, leaving you longing for more. Visit Chhattisgarh to experience its immaculate nature, including striking waterfalls, picturesque plateaus and twisting rivers. The state remains a feast for the lens of every photographer seeking a picture perfect landscape.
Here are the top places to visit in Chhattisgarh:
Chitrakot Waterfall
Often termed as Niagara Falls of India, Chitrakot Waterfalls fascinates every visitor with its amazing beauty. It is located 38 km from Jagdalpur and remains the broadest waterfall in India. It is astonishing to see the water gushing down from a height of 96 ft with width above 1000 feet. People flock here for day picnics amidst ample of nature.
Kawardha Palace
This grand palace is sprawling over an area of 11 acres adorned with lovely garden. Made using Italian marbles and stones, the palace dates back to the 1930s. It beautifully underlines the local cultures of Chhattisgarh and has been transformed into a heritage hotel to offer a luxurious stay experience to the guests.
Achanakumar Wildlife Sanctuary
Nature devotees visiting Chhattisgarh cannot miss a visit to the Achanakumar Wildlife Sanctuary. Just 60 km from Bilaspur, the Sanctuary is home to numerous wild animals residing peacefully in its dense forest areas. Visit here and spot animals like tiger, bison, leopard, bear, sambar and hyena.
Kailash and Kutumsar Caves
Located in proximity to the Tiratgarh Waterfalls, Kailash and Kutumsar Caves have been ranked second in the list of longest natural caves on the planet. These caves, situated on a small hill, were found in 1993 and are known for creating astonishing musical sounds on the striking of hand. Some areas of the caves are even 2 kilometres deep and thus, entry is restricted there due to non-availability of oxygen.   
Maitri Bagh
This garden was the outcome of collaboration between Indian and Russian governments. It was laid by Bhilai Steel Plant. Since then this zoo cum park has become a popular picnic spot. Visit here to explore serene lakes and musical fountains which are real feast for the eyes.
Bastar Palace
Another historic wonder of Chhattisgarh, Bastar Palace is a marvellous palace with unique architecture. The palace has numerous stories of bravery engraved in its walls. Visit here to explore interiors like beautiful artefacts and portraits belonging to the rulers of those times. Also, do try horse ride here which bestows a kingly feel.
Kanker Palace
Kanker Palace was originally raised in the 20th century. However, later in 1937 it was rebuilt to give it a new outlook. The palace flaunts a colonial architecture and its majestic surrounding landscapes add to its beauty. Visit here to partake in boat safaris and jeep safaris which impart great pleasure.
Bhoramdeo Temple
This is an ancient temple built between the 7th and 11th centuries. The temple is often termed as Khajuraho of Chhattisgarh due to its intricate construction which makes many jaws drop. The temple has a pleasing surrounding with Maikal Mountains nestling all around. Apart from spiritual structures, it also houses numerous erotic sculptures.
Food
Chhattisgarh is known for the production of abundance of staple food, including Rice, Bajra and Jawar. Thus, a meal in Chhattisgarh promises a great taste. Try Muthia (dumplings) made of rice batter seasoned with various spices.  Aamat a kind of Sambhar is also loved by the locals due to its spicy mix of ingredients. Just like parathas in other Indian state, Chhattisgarh is known for its Chila, a delicious chapatti made with rice batter and Urad Daal. Also, when it comes to street food, Bhajia often remains popular among both locals and travellers alike. Those having sweet tooth can try Khurma made with milk and vermicillies.
Shopping
Due to various tribes located in Chhattisgarh, one can find a good range of tribal jewellery in the state. One can also pick Wooden objects, Bell metal items, Terracotta figurines, Stone statuettes and Cotton fabrics from here which are available in all local markets.
How to Reach Chhattisgarh
Swami Vivekananda Airport, located in Raipur, the capital of Chhattisgarh, links the state with rest of the country. One can also find regular trains from other major Indian cities to Raipur. Also, bus connectivity to the state is also great and travellers can easily find regular buses.
Free Tour Customization
from Experts