Tamil Nadu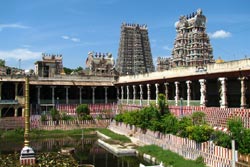 The emerald gem adding sheer elegance to the crown of South India, Tamil Nadu brings to you a mix of lures which excite people of all likes and age groups. The state showcases the best of art, culture and religion which are unseen and unmatched. Wake up to the humming of temple bells, unwind at immaculate beaches, embrace the local cultures, get lost in virgin forests and walk down the memory lanes – holidays to Tamil Nadu is a joy to experience. The state has a rich collection of dance forms like Bamber dance, Chakkai Attam,  Kamandi or Kaman Pandigai, Kali Attam or Kolattam, Karagattam and much more which run in the blood of every local.
Here are the top places to visit in Tamil Nadu:
Chennai
Known with the name of Madras in the past, Chennai remains the economical, cultural, social, industrial and commercial hub of Tamil Nadu. This Capital City houses the most booming Automobile industries of the country. Its distinctive culture and heritage give a perfect contrast to its modern facade. Marina Beach is the most popular attraction here where people flock to catch impressive sunrise and sunset views. Semmozhi Poonga, a 20-acre park, is also an ecstasy for nature lovers seeking some moments of peace amidst medicinal plants and aromatic herbs. Kapaleeswarar Temple catches the attention of all with its old history dating back to 400 years. The Dravidian style of sculpture and architecture of the temple makes many jaws drop out of fascination.
Coimbatore
Coimbatore is the second biggest city in Tamil Nadu nestling with the Western Ghats. The city has a rich history and culture which can be seen in various attractions dotted here. Marudamalai Temple of the city is the most visited place here dedicated to the Hindu deity Lord Murugan. The temple boasts unique Dravidian style architecture with colourful gopuram. Perur Pateeswarar Temple also looks impressive with its breathtaking architecture. It is believed that it is the place where Lord Shiva performed the 'Tandav' dance. Nature and wildlife lovers must check out the Parambikkulam Wildlife Sanctuary which is also a tiger reserve.
Mahabalipuram
Mahabalipuram remains one of the oldest cities here known for being the proud of owner of some impressive stone carved monuments and antique temples. Arjuna's Penance, a huge open-air sculpture, remains a must visit place here to see the intricate detailing done on the rocks. Mahabalipuram is home to numerous temples underlining the religious beliefs of the locals. A total number of 8 Rock-Cut Cave Temples are found here known for their delicately cut rock sculptures.  Thirukadalmallai, dedicated to Lord Vishnu, was raised by the Pallavas and showcases the architectural brilliance of Indian art.
Kanyakumari
The southernmost point of mainland India, Kanyakumari has earned great popularity due to its arts, culture and religion. Beaches of Kanyakumari are awe-inspiring and offer you great opportunities to walk hand in hand with your soul mate along their never ending shorelines. Kanyakumari Temple is extremely popular and is counted among 108 Shakti Peethas in Hindu mythology. The temple has mentions in some popular ancient Hindu scriptures and is frequented by pilgrims from all parts of the world. Vivekananda Rock Memorial, located on the edge of the shore, is also an incredible looking structure. It can be only accessed by taking a ferry ride. If you wish to see some unbelievable form of Indian architecture, then Suchindrum, featuring distinctive Dravidian style, is for you. The temple is adorned with exquisite rock cut pillars and numerous gateways. Apart from these, Thiruvalluvar Statue also catches the attention of visitors with its 133 feet height. It is one of the biggest in Asia and remains a popular cultural and religious hub.     
Madurai
A holiday to Tamil Nadu is a sheer waste without paying a visit to Madurai, known for its architectural brilliance. It is often termed as 'The city that never sleeps' as it remains busy all day and night. Sree Meenakshi Amman Temple of Madurai is a masterpiece spreading beyond 6 hectares of land. The temple is dedicated to god Shiva and flaunts amazing work of architecture that one needs to see to believe. Thirupparankundram Murugan Temple is counted among the six abodes of god Murugan. The cave temple is dedicated to elements of earth and is frequented by locals and travellers alike. Koodal Azhagar Temple is another must visit religious hub featuring a rich past and architectural excellence.
Kodaikanal
Rightly called as 'The Gift of the Forests', Kodaikanal takes you away from hot and humid climate to pleasurable surroundings where the rarely found Kurunji Flower steals away your heart. Kodaikanal is blessed with meadows and grasslands flourishing with thick forest covers. Spend some time around the Berijam Lake which is the source of drinking water for nearby villages. The medicine forest around the lake is impressive and offers stunning views of nature. No traveler visiting Kodaikanal ever misses the chance to visit Coakers Walk, a 1 kilometre long walk nestling with rare views of nature. The place is known for a rare phenomenon where your shadow can be seen on the clouds. Boating activity is highly popular at the star shaped Kodaikanal Lake of Kodaikanal. Here one gets great glimpses of flamboyant birds while peddling boats. If you have a fascination for trekking, visit the Dolphin's Nose. The place received its name due the nose like shape of the rock here from where you can catch splendid bird's eye views of nature.  
Vellore
The Fort city of Tamil Nadu, Vellore sits on the edge of the Palar River. Vellore was ruled by numerous kingdoms in the past, including Pallavas, The Cholas and Vijaynagar. This resulted in diverse history and culture of the city. The Vellore Fort here remains a popular historical attraction built during the 16th century AD. Many dynasties stayed in this fort which houses a church, a temple and a mosque. Jalakandeswarar Temple of Vellore is an excellent representation of the Dravidian architecture beautified with finely carved stone pillars. Other than these, one must also explore the Srilakshmi Golden Temple of Vellore which is also known with the name of Lakshmi Narayani temple. The whole structure of this temple is gold coated which makes it look like a shining golden star.
Ooty
A pleasurable hill station to ditch bumper the bumper traffic, Ooty remains one of the most visited hill stations in India. Botanical Gardens of Ooty were laid out in 1848 and sprawl over an area of 22 hectares. Take leisurely walks as you cherish some remarkable views of plenty of flora blooming here. There is also a Tea Factory in Ooty where one can find some refreshing flavours of tea. Doddabetta Peak is another must visit place standing at a height of around 8,650 feet. Numerous trekkers and solitary wanderers visit this place with binoculars to catch bird's eye views of the surrounding region.
Food
Food of Tamil Nadu is simple yet delicious. Rice, legumes and lentils are consumed widely in all cities here. Dishes are often served on a banana leaf which adds to the eating experience. Uttapam, made using Urad Dal and rice powder, remains a popular dish. It is served with coconut chutney or Sambar. Banana Bonda remains a popular snack item. Rasam, a soup like dish, is also cooked in every household. Dosa is not to miss dish of Tamil Nadu which comes in various variations. Also, for a light breakfast, enjoy Idli (made of urad dal and rice) and Vada (made with fermented Bengal gram). Rice lover must enjoy lemon rice offering oodles of flavour. Also, add some sweetness with Paruppu Payasam made with roasted moong dal and cashew nuts.
Shopping
Tamil Nadu is a shopper's paradise. The state's hand embroidered saris are very popular and remain must buy. They come in silk as well as cotton fabric. The arts and crafts of the state are also popular. Chennai is an ideal city to buy silk, embroidered saris, hand-woven garments and other handicrafts. Mahabalipuram is known for shops selling fine pieces of sculptures, ancient art and craft and exquisite woodcarvings. Madurai also remains popular among shoppers looking for some readymade silk and cotton garments.
How to Reach
All major cities of Tamil Nadu have their own airports. Chennai International Airport is a major airport that caters domestic as well as international flights. The state boasts a great road network and thus, it is easier to visit here by taking private and state owned buses. Also, Chennai being the focal point of the Southern Railways makes rail travel easy. Other major junctions of the state include Madurai, Tiruchirapalli, Salem, and Coimbatore.
Free Tour Customization
from Experts