Nagaland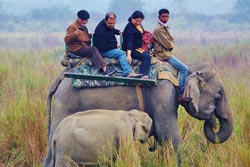 Nagaland, adorned with uncountable hills, is a sheer pleasure for those visiting North East India. It has an unworldly vibe that lets every human soul unwind to the core. From dramatic head dresses of the locals to great taste in food, from vibrancy in festivals to some unseen traditions – this state has something for everyone. Nagaland often surprises visitors with the influences of varied religions found here. From marks of Christianity to astonishing influence of Hinduism, there is so much to explore and unearth in Nagaland. The Naga (locals of Nagaland) speak various distinct Tibeto-Burman languages. Numerous Naga tribes can be found here who bring in their own distinct flavours in terms of cultures and traditions to this state. Some of the significant tribes of Nagaland include Angami, Ao, Chakhesang, Chang, Khiamniungan, Konyak, Lotha, Mao, Maram Naga, Phom, Pochury, Poumai, Rengma, Rongmei, Sangtam, Sumi, Tangkhul, etc.
Here are the top places to visit in Nagaland:
Dimapur
Gateway to the state, Dimapur gives you entry to the state of Nagaland. It offers numerous pullers for nature and history devotees which leave them longing for more. Visit the 13th century Kachari Ruins here which underline Ahom invasion. Those who wish to see some unseen facets of nature must explore places like Nichuguard Village, Kuki Dolong Village, Chumukedima, Sethekima Village and Medziphema. These places are ideal to spend some time away from the hustle and bustle of the city life and rejuvenate in the lap of nature. 
Kohima
The capital city of Nagaland, Kohima remains the most visited place here. Even though the city carries an old world charm, it has perfectly adopted a modern avatar as well. Visit here to catch scenic vistas which take you in the time of World War II. This is an ideal city to delve into the traditions of the Angami tribe. The Japfu Peak (3048m) and the Pulebadze Peak of Kohima remain major pullers. History of this city is eye opening. Its ancient ruins, its deserted villages, and its historical places are enough to walk down the memory lanes. Some of the popular places to explore in Kohima include Kohima War Cemetery, Naga Bazaar, Kohima Zoo, Kohima State Museum and Deputy Commissioner's Bungalow.
Mokukchung
Known to be the liveliest district of Nagaland, Mokukchung is known for its Ao tribe popular for its warm hospitality, rich traditions and vibrant festivals. Longkhum in Mokukchung is considered as sheer paradise for nature lovers and for those having keenness for handloom and handicraft items. Ungma, a place founded by Ao tribe, is a live museum that lets you peep into their traditions and lifestyle closely. Witness the celebrations of Moatsu festival (celebrated in the month of May) here which showcases some hidden charms of this tribe.
Mon
The home ground of Konyak Nagas, Mon is known for tribal carrying tattoos on their faces. Locals here wear giant head hunting prowess and usually have blackened teeth. Most of them indulge in farming which is believed to be finest harvest in Nagaland. The biggest village of Mon is Longwa where one gets an opportunity to visit chief's house where he stays with his 60 wives. You can see uncountable trophies made using animals' skull in his house which is truly a striking sight to capture.  Shangnyu Village of Mon is renowned for wooden carving from where one can buy some great handicraft items. Visiting Mon in April month promises great pleasure as you get to participate in the harvest festival of Konyak Nagas called Aoleong Monyu Festival.
Wokha
A nature's paradise, Wokha is sprinkled with some of the most beautiful colours of Orchids and other flowers. There is a small village above Riphyim which remains a major attraction of this district. Stay in one of the lodges set up here which offer impressive views of nature from every window.  Lotha tribe resides in Wokha who are known for their traditional art and craft. Do not miss exploring some of the best attractions to visit here which include Mount Tiyi, Liphanyan Governor's Camp, Water Pool, Totsu Cliff, Tehurang Valley, Baghty Valley and Vankhosung town.
Dzukou Valley
Dzukou Valley is situated at an attitude of 2438m which gives it a spectacular ambience to unwind. This valley is a true delight for trekkers as it is often compared to the Valley of Flowers of Uttarakhand. One can see numerous ravines and streams during trekking expeditions here which is a worth cherishing experience. Try and visit here during spring season when the valley stays blooming with flamboyant flowers.
Food
The food of Nagaland is simple yet flaunts a distinct flavour. Locals of this state love spicy food and thus, most of the dishes served here have ample of spice. Bamboo shoot remains a major ingredient in most of the local dishes. Pork with Bamboo shoot and Fish with Bamboo shoot are two popular dishes among locals. Axone (fermented soyabeans) can be found in every household as it is used to make chutney. Anishi (colocasia) remains a main ingredient in the dishes made by the Ao tribe of Nagaland. It is teamed up with fresh pork or smoked pork.
Shopping
Shopping in Nagaland bestows great pleasure as one gets to see every hue of local cultures in handicrafts sold here. Nagas are very creative people and are known for making woven Naga shawls, bamboo mugs, cane carpets and silk mekhela. Every nook and corner has a small bazaar flooding with handmade bags and baskets made using cane.  Look for Handicraft and Handloom Emporiums to buy authentic items at great prices
How to Reach
Dimapur Airport links the state with Guwahati (Assam) and Kolkata (West Bengal). The nearest railhead is in Dimapur which offers great connectivity with rest of the country. If you are planning a road journey to Kohima from Guwahati then you may face a tiring journey as roads are not very well maintained. Thus, flying to Dimapur remains the best options.
Free Tour Customization
from Experts