Rajasthan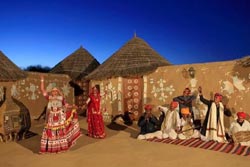 The land of Rajas and Maharajas, Rajasthan is a priceless jewel in the crown of India. The state takes you on an unforgettable ride on the sands of time where you explore some unheard stories about rich Indian history when India was called the Golden Sparrow. From its royalty oozing cities to vibrant festivals underlining its lively cultures – Rajasthan is a dream destination of every human soul seeking a luxurious experience. The state has been blessed with some of the most skilfully made monuments showcasing the elaborate lifestyles of the rulers of India in the past. Numerous legendary battles of history were fought here; however, the state still stands strong with pride till date.
Here are the top places to visit in Rajasthan:
Jaipur
The capital of Rajasthan, Jaipur is the biggest city here known with the name of Pink City. The city was founded in 1727 since when it has been captivating every soul with its range of caretakers of history. Visit the legendary City Palace dating back to the 19th century. The palace flaunts a mix of Rajput, Mughal and European architectural styles with numerous art galleries and museums exhibiting artefacts from the past. Hawa Mahal of Jaipur also makes many jaws drop with its 953 small windows called jharokhas made to let royal women observe street festivals without being seen by public. Jal Mahal of Jaipur looks like a dream located in the centre of the beautiful 'Man Sagar Lake'.  It was built by Maharaja Sawai Madho Singh. It pleases visitors with its typical Mughal style. Amer Fort sits on a hill top and remains a matchless masterpiece of the Rajputana architecture. Some of the most priceless lures of the fort like Diwaan-e-Khaas, Sukh Niwas and Sheesh Maha look spectacular. Nahargarh Fort, Jaigarh Fort, and Albert Hall Museum are other must visit places of the city.
Udaipur
The City of Udaipur is often called the Venice of the East. Palaces dotted here truly underline finesse of Rajputana Style architecture. The city was founded by the Sisodiya Rajput Ruler Maharana Udai Singh II. Today, it has become the centre of attraction for travellers visiting Rajasthan to understand the state's royal charms. The City Palace of Udaipur is the residence of the royal Mewar family. The architecture of this palace is majestic with numerous sections such as crystal gallery, the vintage car museum, Daawat-i-Aam, Daawat-i-Khas and Maharani Palace. Lake Pichola of Udaipur is another must visit attraction for catching mind blowing vistas of the surrounding hills by taking a serene boat ride.  Other must visit places to visit in this city of lakes are Jag Mandir, Lake Palace, Jagdish Temple, Lake Fatehsagar, Saheliyon Ki Bari, Bagore Ki Haveli, etc.
Jodhpur
The second biggest City of Rajasthan, Jodhpur is also called the Sun City as the sun shines with its full fervour here. It was founded in 1459 by the Rathore Rajput Ruler, Rao Jodha Singh of Marwar. Since then it has become an epitome of magnificence with some of the most extraordinary historical attractions.  The only view of Mehrangarh Fort from a distance makes many jaws drop out of fascination. The fort stands 400 feet above the city and looks exceptionally beautiful with its fortified walls made in unmatched architectural styles. Umaid Bhawan Palace of the city houses 347 massive rooms adorned with Indian and European style of architecture. The palace has been now partially converted into Taj Palace Hotel and museum. Other must visit places in Jodhpur city include Jaswant Thada, Mandore Gardens, Kailana Lake, Rao Jodha Desert Rock Park, Clock Tower and Chamunda Mata temple.             
Jaisalmer
Rightly called the Golden City, Jaisalmer is all about far stretched expanses of shimmering Thar Desert sands and desert safaris. The city was founded by The Bhati Rajput ruler Maharawal Jaisal Singh in 1156. Visit here and delve into the tales of bygone era when this state was ruled by legendary Indian rulers, living in heaven like palaces. Jaisalmer Fort of the city was built by Raja Jaisal, Rajput ruler. The golden and yellow mixed sandstone shade of the fort shines bright when the rays of the sun fall on it. Catching its glimpse in the night is an unbelievable experience with its 99 turrets.  The architecture of Bada Bagh is also worth exploring in the city. It is a memorial where many nobles and their family members were cremated. Visiting here during sunset or sunrise is a pleasurable retreat. Patwon-Ki-Haveli is also a massive masterpiece of Jaisalmer with five-storeys. It features large corridors and adorned walls representing rich Indian art. Do not miss out a Sam Sand Dunes experience during your holidays to Jaisalmer that takes you on a desert safari on camelback.
Bikaner
To experience the cultural richness of Rajasthan, nothing can be as promising as the city of Bikaner. The city was laid by Rao Bika Ji, a Rajput prince. Every nook and corner of Bikaner flaunts the magnificence of the Rajput civilization. Visit Junagarh Fort, blending together Mughal, Gujarati and Rajput styles of architecture. The fort features scenic courtyards and some majestic lures like Anup Mahal, Chandra Mahal, Hawa Mahal, Dungar Mahal, Diwan-e-khas and Ganga Mahal. Lalgarh Palace of Bikaner is also a must visit due to its marvellous mix of Mughal, Rajput and European architectures. Visit here and explore its library, cards room and billiards room apart from massive lawns where peacocks can be spotted. National Research Centre on Camel of the city lets you peep into camel breeding process. This research centre is devoted to camels and is unique in its own way.
Pushkar
The holiest town of Rajasthan, Pushkar resides in the Ajmer District. The town is located on the edge of the Pushkar Lake where numerous pilgrims flock to wash away their sins in its holy water. Pushkar is home to the only temple of Lord Brahma on the planet. The annual Pushkar Fair organised here is perhaps the best time to visit this town when one gets to see every hue, culture, tradition and religion of Rajasthan under one horizon.
Mount Abu
The only hill station of Rajasthan, Mount Abu is situated in the Aravalli mountain range. People from Rajasthan and other parts of the country visit here in large numbers to spend some time away from the summer heat. The nature sprawling here is matchless and ideal to ditch busy city life. Some of the most popular attractions to explore in Mount Abu include Dilwara Jain temples, Guru Shikar, Achalgarh, Sunset Point, etc.
Food
Just like its rich cultures, the food of Rajasthan is also rich in flavours. From Dal Bati Churma (round bread baked and served with lentil curry and clarified butter) to Laal Maas (red meat) – the variety is endless. Gatte ki Sabzi (gram flour dumplings) is also cooked in every household. Rajasthanis have a special liking for kachoris (flour filled with different fillings) served with chutneys. Rajasthani Kadi is also a must try dish having pungent and spicy flavours.  Those having sweet tooth must savour the taste of Ghevar (a disc shaped sweet made of corn flour, fried in ghee and dipped in sugar syrup). Mawa Kachori also brings water in the mouth with its rich filling of dry fruits and khoya.
Shopping
Shopping in Rajasthan is as exciting as walking around its majestic forts and palaces. People come here light but often go back with extra bags brimming with Rajasthani clothing, jewellery, handicrafts and traditional goods. Johari Bazar of Jaipur is a heaven for jewellery-lovers. Pick the most beautiful range of jewellery from here adorned with precious and semi-precious stones and gems. Bapu Bazar of Jaipur is ideal to buy colourful Rajasthani textiles, handloom and accessories. If you are in Jodhpur, pick some antiques which make great souvenirs. Nai Sarak is great to buy dye clothes (bandhani) which remain must buy from Rajasthan. Udaipur's Bada Bazar is adorned with numerous shops of Leather goods and traditional jewellery. Hathi Pol Bazar is visited by art aficionados having keenness for intricate miniature paintings. Jaisalmer's Sadar Bazar is a wholesale market where you can buy all kinds of Rajasthani attires at knock down prices.
How to Reach
The main airport of Rajasthan is situated at Jaipur serving both domestic and international flights. Udaipur, Jaisalmer and Jodhpur have domestic airports. Train is also a good option to reach Rajasthan as the state boasts a great rail network. In addition, road travel is also a preferred choice among travellers planning holidays to Rajasthan.
Free Tour Customization
from Experts