South India Hotels / Resorts
Karnataka
Karnataka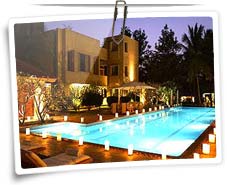 Karnataka is a bewitching tourist destination of South India, wrapped up in the pristine glory of Mother nature. The glorious past and wonderful present of Karnataka make it a "worth a visit" destination on the tourist map of India. The term Karnataka was derived from the Kannad words 'Karu' and 'Nadu', meaning 'elevated land'. The beauty of this state majestically reflects in its sun-kissed beaches, lovely gardens, opulent palaces, handicrafts, architecture and coffee and cardamom estates.
The main attractions of Karnataka are housed in its renowned cities such as Bangalore, Mysore, Hassan, Badami and Hampi. In Bangalore you can see Tipu Sultan Palace and Museum, Lalbagh Garden, ISKCON temple and Vidhan Sauda. If you are inclined towards ancient temples and their ageless beauty,then you must head for Hampi in Karnataka. Royalty of the bygone era can be best experienced in Mysore and the list of attractions go on.
Karnataka is dotted with a wide variety of luxurious cottages, hotels and other accommodation options to provide a delightful stay to tourists. The five-star hotels are luxurious appointed offering great facilities and services. Most of the hotels are located in wonderful surroundings greeting their guests with picture-perfect sights of nature.
Dining is also a great experience at the famed hotels in Karnataka. The restaurants of the hotels offer 'high on quality and taste' cuisine, which never fails to tantalize the taste buds of guests. Be it Continental cuisine, Chinese cuisine, sea food, Italian cuisine or traditional food, the cooks of the fine hotels of Karnataka have long perfected the art of cooking. Each hotel specializes in some or the other cuisine offering a superb dining experience to guests.
Some of the Famous Hotels in Karnataka Are:
In Bangalore
Taj Residency Hotel
Le Meridien
The Viceroy
In Coorg
In Hassan
In Mysore
Rajendra Vilas Palace
Lalita Mahal Palace
Hotel Royal Orchid Vrindavan
Free Tour Customization
from Experts