Hills Stations in India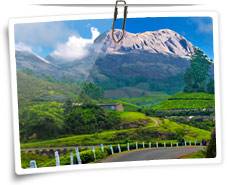 Give Your Married Life A Sparkling Start At The Hill Stations Of India
Hill stations in India offer you wonderful opportunities to enjoy the most important phase of your life with your partner at the scenic snow clad hills. For a passionate honeymoon in India, these hill stations are perfect for leisurely walks, sightseeing, wildlife excursions, and various adventure sports. Choose the hill resort of your choice and get ready for some of the golden moments in life.
Honeymoon can be enjoyed at various hill stations as the country is blessed with a number of those spread all across the land. But Himachal Pradesh and the newly formed state of Uttarakhand enjoys the maximum number of hill stations in the country. It serves as the most romantic destination for honeymoon.
Prime Hill Stations
Dalhousie
Spreaded over five low-level hills at the western edge of the Dhauladhar range, this quiet town lies east to the Ravi river in Himachal Pradesh. The town has a sense of enchantment and is dotted with various colonial-era buildings, low roofed stalls and hotels. The entire region is covered with pine, deodar and flowering Rhododendron forest, and is an ideal spot for trekking or short walks. It also serves as a gateway to the Chamba Valley. Offering panoramic views of the plains and snow capped mountains, it is considerd the 'Switzerland of India'. Snow clad mountains, emerald green pine, blossoming flowers and the aromatic air make it a perfect place for honeymoon couples.
Kullu-Manali
These renowned twin hill stations in Himachal Pradesh serve as flourishing orchard industry, a popular honeymoon destination and trailhead for numerous treks as well as a great countryside ideal for adventure sport lovers. The entire valley spreaded north and south of the river Beas, is encircled by streams, brookes and emerald green forest. Kullu is simply a paradise for mountaineers, artists, trekkers and to those who want to escape the scorching heat of the plains. The high valley, standing in solitude, is a perfect place for long walks while holding hands, singing songs, and enjoying the panoramic views of the milky white mountain ranges. It is an ideal destination for adventure enthusiasts offering opportunities for trekking, skiing, mountaineering, paragliding etc. Kullu, the 'Valley of gods and goddesses' is highly revered by those who are religiois minded.
Shimla
Shimla, named after goddess 'Shayamla Devi', is the capital of Himachal Pradesh. Blessed with all the natural bounties, the city dwells on a panoramic location surrounded by green pastures and snow-capped peaks. It still retains its colonial heritage of the British era, with grand old buildings. Shimla is enveloped with snow capped mountains and thick emerald forests of pine, fir, oak and deodar. Apart from the high peaks and dense forests, this unique hill station is a paradise for adventurous sports lovers. They can try out sports like mountain cycling, trekking, mountain climbing, heli skiing, skiing, ice skating and angling at Shimla. Mall is also known as shoppers' Paradise. Visit Shimla any time of the year and make your holidays memorable for a lifetime.
Mussoorie
Popularly known as the 'Queen of Hills', Mussoorie is located in the Garhwal hills. The hill station has evolved as a great centre of education, business, tourism and beauty. It lies at an altitude of about 2,500 meters in the great Himalayan range and is considered as the best hill station in the northern region. Exotic flora and fauna, pleasant weather, enchanting lakes and waterfalls, and thrilling ropeway ride prove to be the best part of your trip to Mussoorie. Mussoorie Mall Road is the famous shopping spot. Pilgrimages like Kedarnath, Badrinath, Gangotri, Yamunotri, Rishikesh are also located at a close proximity to Mussoorie.
Nainital
Nainital is a small town in the hills of Kumaon, with unmatched natural beauty and fabulous lakes. Once it was called the City of 60 lakes, but only a few of them survive today that are surrounded by steep hills and are ideal for boating. Nainital is named after the picturesque Lake Naini. The Mall at nainital is mostly visited for pony rides.
Ranikhet
Another popular hill station in Uttarakhand is Ranikhet that is situated on the Kumaon Hills. Its actual beauty lies in its pleasant climate and dense greenery. Ranikhet enjoys heavy snowfall in winters. The reason behind is virgin and unpolluted beauty is that it is still untouched by the forces of modernization and urbanization. This place is the ideal destination for the nature lovers and newly wed couples.
Dharamshala
Dharamshala is undoubtedly one of the most beautiful hill stations on the top of Kangra valley. The splendid hill station is backened by majestic Dhauladhar range. Apart from the emerald pine forest and snowy mountains, the place is enriched with aromatic tea gardens and cascading waterfalls. It is simply a heaven for tourists and Honeymoon couples. Covered with a thick layer of snow, Dharmasala is the abode of His Holiness the Dalai Lama (the religious head of the lama's community). Another attraction of Dharamshala lies in its ancient monasteries.
Kasauli
This small hill station with unmatched beauty is located in the state of Himachal Pradesh. The aromatic gardens with countless flowers, oak and horse chestnuts forest form a major attraction at Kasauli. It is synonymous with fun, frolic, and amusement. The traditional songs and poems of the local people are quite popular.
These Hill stations are known for their impeccable beauty. They offer a perfect environment to bring two souls close together.
Free Tour Customization
from Experts