Tripura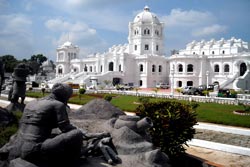 Tripura is one of the Seven Sister States in northeast India. It casts a beautiful image with its cultural heritage, architectural splendour and overwhelming charm. Visit here and get awe-struck by its stunning mountains, pristine lakes and ancient temples other than a rich variety of wildlife. Tripura is known for its rich tribal population which brings along a vibrant mix of colours to the state.
Here are the top places to visit in Tripura:
Agartala
Edging the banks of the Howrah River, Agartala remains the biggest city of Tripura. It is the proud owner of some of the most significant historical and mythological places which have their mentions in the scriptures of the Mahabharata. Agartala was once a princely state during the rule of British. The locals here are deeply devoted to their festivals and can be seen indulging in various celebrations all year long. The Ujjayanta Palace remains a must visit attraction here situated amidst lush green and vast Mughal gardens. The palace looks grand with a library, Darbar, a Throne room, and a reception hall. Unakoti Hill also attracts visitors with stunning stone carvings of Lord Shiva. Visit here to experience bounty of nature residing in its lush green trees, shrubs, and waterfalls. Sipahijola Wildlife Sanctuary is an ecstasy for wildlife devotees where they can find various birds, animals, and vegetation. Jampui Hills here also looks remarkable with abundance of orange plantation blooming here.
Dharmanagar
The second largest city in Tripura, Dharmanagar enjoys a rich past with some major historical places. It houses a string of attractions to visit each having its own unique charm. Dighi Lake remains a must visit to enjoy leisurely walks amidst serenity. Dharmanagar is also home to some significant temples. Kalibari Temple of Dharmanagar, dedicated to Maa Kali, is frequented by all locals. It is situated on the banks of Dighi and is known for its grand Durga Puja celebrations. Iskcon Temple is a recent addition here.
Udaipur
Situated at a distance of 55kms from Agartala, Udaipur cuddles the banks of River Gomati. The city is often termed as the Lake City and houses numerous temples and historical sites. Some of the must visit places in Udaipur include Tripura Sundari Temple, Gunabati Group of Temples, Sepahijala Wildlife Sanctuary, Bhubaneshwari Temple and Tepania Eco-Park.
Food
Tripura cuisine is a blessing for non-vegetarians as lots of meat is used in most of the dishes. Mui Borok (dried and fermented fish) is a highly popular local dish here that can leave an everlasting taste on your tongue. Many dishes here are inspired from Bangladesh.
Fish, rice and vegetables are the most popular food items consumed by the locals of Tripura. Tripurians have also adopted Chinese cuisine and cook authentic Chinese food. Do not forget tasting the traditional Chuak, a local rice beer, prepared by fermenting rice in water. Some of the must try dishes in Tripura include Mosdeng Serma (spicy and tangy chutney), Bhangui (rice dish), Kasoi Bwtwi (prepared with Berma), Panch Phoron Tarkari (vegetables mixed with local spices) and Wahan Mosdeng (pork dish).
Shopping
Shopping in Tripura is a pleasurable experience where you not only shop but also cherish local cultures. The state is known for handicrafts made of bamboo and cane. You can pick from a range of floor mats, panels for walls, furniture and table mats from here. Woven fabrics sold here are also of good quality and are very reasonably priced. Agartala houses many Government emporiums and privately-run stores selling crafts and handwork items.
How to Reach
The Agartala airport in Tripura connects the state with Kolkata and Guwahati. Closest railway station is Kumargh around 140kms away from Tripura. Also, Agartala enjoys good road connectivity and many state and private buses run from here.
Free Tour Customization
from Experts