Chandigarh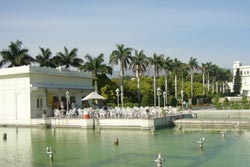 Chandigarh is perhaps the happiest city of India brimming with matchless zeal. The locals of the city are known for their lively nature and a special inclination towards food. The city's infrastructure is the most planned one in India and thus, never fails to impress visitors.  Chandigarh resides on the foothills of the Shivalik range which gives it an incredible backdrop. Often termed as the Garden city of India, Chandigarh is home to more than its fair share of gardens.
Here are the top places to visit in Chandigarh:
Rock Garden
Also famous with the name of Nek Chand's Rock Garden, this garden houses unique mosaic of art pieces and sculptures. Every exhibit here is made using industrial and home waste, including broken bangles, tube light pieces and toilet fixtures. It was raised in 1957 and today it houses over 5,000 statues within its premises.
Rose Garden
Situated in sector 16 of Chandigarh, Rose Garden is a beautiful abode of nature sprawling over an area of 30 acres. The garden is known for housing an exquisite variety of flowers, including some of the rarest and exquisite varieties of roses. Visitors visiting here can enjoy leisurely walks while exploring flora in its full bloom.
Sukhna Lake
Flaunting astonishing views of Shivaliks, Sukhna Lake is a great place to enjoy picnic in Chandigarh. This man-made lake has pristine blue water and picturesque surroundings to unwind. Numerous strollers, joggers, artists and photographers can be seen here enjoying the wonders of nature.
Fun City
Fun City is a great place for family vacationers visiting Chandigarh.  This water amusement park in Ramgarh is largest in North India. Numerous water activities are available here, including lazy river ride, splash pool, aqua dance, and a lot more. The place bestows great fun to people of all age groups.
Terraced Garden
Another spectacular picnic spot to laze around on a pleasant sunny day, Terraced Garden is a charmer. This 10 acre garden in Sector 33 is known for the annual Chrysanthemum show which is held here in the month of December.
Pinjore Gardens
Popular with the name of Yadavindra Gardens, Pinjore Gardens was laid by a Nawab under the Mughal emperor Aurangzeb. The garden is home to palatial structures flaunting a mix of Rajasthani and Mughal architecture.
Cactus Gardens
Cactus Gardens is the biggest succulent botanical garden in Asia covering an area of 7 acres. People flock here to explore over 3500 different species of cacti. It was established in 1987. Since then it welcomes streams of nature lovers and botanists every year.
Food
The locals of Chandigarh are die hard foodies. The local food of the city is cooked using rich Indian spices which taste lip smacking. Try out dishes like Lachha Parathas, Butter Chicken, Amritsari Kulche, Chicken Tikkas, Chole Bhature, Tandoori fish and Kebabs to fall for gluttony. Also, sweets like Roh di Kheer, Jalebi, Baalushahi and Gulab Jamun are irresistible here.
Shopping
Shopping in Chandigarh has its own pleasure. Vibrant shops selling colourful things look fascinating as you walk across some famous markets. Phulkari items are highly popular in the city. Travellers must also bag Punjabi Dupattas which look spectacular. Punjabi Juttis (traditional footwear) are loved by all too. Visit Shopping Centre in sector 17 where one can find almost everything. Shastri Market of sector 22 is ideal for indulging in street shopping.
How to Reach Chandigarh
Chandigarh Airport is located 12 km away from the city centre and operates flights to all major cities of India. Those planning rail journey can deboard at the Chandigarh Railway Station which is just 8 km away from the city centre. Also, the roads of this city are excellent and thus, bus journey is also recommended from nearby places like Mussoorie, Shimla, Mcleodganj, Dharamsala, etc.  
Free Tour Customization
from Experts