Delhi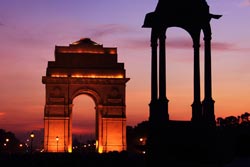 The National Capital Delhi is rightly called the very heart of India. Bustling streets, vibrant locals, historic grandeur, modern charm, splendid food items, and blissful cultures – Delhi is all this and a lot more. The vividness of this city is such that one needs more than a lifetime to explore it inch by inch. From sky scraping multinational companies redefining the word modern to colonial-era buildings narrating legendary stories of the past, the contrast seen here is unbelievable.
Here are the top places to visit in Delhi:
Delhi has a rich history which can be seen in various historical monuments dotted here. Start your holiday to Delhi by visiting the larger than life Red Fort, a masterpiece belonging to the Mughal era. This red sandstone marvel was constructed in 1638 and makes many jaws drop with its magnanimous walls which stand high with pride till date. The evening sound and light show organised here is a must see as it takes you deep into the memory lanes of India. The majestic looking India Gate also catches the attention of all visitors with its grand 42-meter tall structure. This is a war memorial dedicated to 82,000 Indian and British soldiers who scarified their life during the First World War and the Third Anglo-Afghan War. It is amazing to see the names of 13,300 servicemen engraved on its walls. To know some unheard tales from Indian history, a visit to the Humayun's tomb is a must. It is the tomb of the Mughal Emperor Humayun. Its impressive architecture and massive red sandstone walls tell a lot about Mughal architecture. The tomb is nesting with beautiful looking Mughal Garden which adds to its beauty. No holiday to Delhi can ever end without visiting the magnificent brave tower Qutub Minar which is known for being the tallest individual tower on the planet. Its flawless carvings are worth exploring and bring many architecture aficionados here.
The only mention of Delhi conjures the images of Rashtrapati Bhawan, residence of the President of India. This impressive piece of architecture   has four floors with 340 rooms. The Mughal Gardens surrounding Rashtrapati Bhawan has been made by using both Mughal and English landscaping styles. The Mughal Gardens remain open for public in February–March every year.
Delhi is home to some of the most spectacular religious places belonging to various religions. The Swaminarayan Akshardham Temple is not only a significant religious place but is also known for its unmatched architecture. The temple paints Hinduism and is dedicated to Lord Swaminarayan. Thousands of people all over the world visit here to seek serenity and spirituality. The temple houses an idol of Lord Swaminarayan apart from 20,000 other deities, important personalities belonging to Indian history and sages. The architecture of Lotus Temple is also impressive. This unique temple symbolizes four religions namely Hinduism, Jainism, Buddhism and Islam. Also, visit the largest mosque in India–Jama Masjid of Delhi. The mosque is so big that it can hold up to 25000 devotees at a time. The Gurudwara Bangla Sahib in central Delhi is a significant Sikh holy spot.
Also, to capture some stunning sites of wildlife, a visit to the National Zoological Park of Delhi is a must. Hop on the safari van and spot Tigers, Leopards, Bears, Foxes, Monkeys, Deer, Antelope, etc.
Food
The locals of Delhi are known for their extravagant meals. The street food of Delhi has earned great popularity in all parts of the world for its delectable taste. Delhi is dotted with some of the best eating options which can make anyone fall for gluttony. Chandni Chowk is perhaps the most popular area for food lovers visiting Delhi. Savour the taste of Paranthas at Paranthe Wali Gali in Chandni Chowk. Here customers can choose from a range of Paranthas, including potatoes, cauliflower, radish, eggs, keema and even banana. Give a tangy taste to your tongue with Chaat items such as Papdi Chaat, Kachaalu Chutney and Khasta Papdis served here. When it comes to sweet items, Delhi surprises you with a long list of desserts. Try Rabdi Faluda served in various flavours like Kesar, Pista, Rose, Kewra, Banana, Mango and Pomegranate. While visiting Chandni Chowk, many Jalebiwalas can be seen along the narrow lanes making fresh hot jalebis.
Shopping
A shopping spree in Delhi takes you from budget street shopping to some hi-tech shopping malls with international stores. Local markets of the city remain a popular choice among travellers as they sell great stuff at knock down prices. Visit Dilli Haat where one can bag handicrafts, clothing, ornaments, footwear and a lot more. It is a one stop destination to buy handicrafts from all regions of India. Janpath and Tibetan Market also remain brimming with buyers looking for clothing, footwear, perfumes, brassware, Indian artefacts, and junk jewellery. Chandni Chowk of Old Delhi is a hub when it comes to shopping. It is perhaps the best place to buy saris, suits, lehngas and much more at unbelievably low prices. Also, Sarojini Nagar is the market to buy all kinds of clothes selling on the streets at low prices.
Delhi also houses numerous posh areas and malls for those looking for popular brand outlets. Visit Connaught Place in central Delhi where numerous showrooms of clothes, electronics, handicrafts and much more are dotted. Select Citywalk is also a popular place for those seeking branded clothes. For some high-street shopping, DLF Promenade should be your pick. For extravagant buyers, nothing can be better than DLF Emporio where all high-end brands like TOD's, Ogaan, Anita Dongre, Jimmy Choo, etc. are located. Other malls to visit in Delhi are Pacific Mall in Subhash Nagar, Ambience Mall in Vasant Kunj, Metro Walk Mall in Rohini, etc.
How to Reach
Travellers planning air travel land at the Indira Gandhi International Airport, connecting Delhi with all over the globe. The airport is 22 kilometres away from the city centre. Delhi also enjoys great road connectivity with cities such as Jaipur, Agra, Alwar, Chandigarh, Amritsar, Shimla, Manali, Dharamsala, etc. Visiting Delhi by train is a not to miss experience.  Delhi boasts five major railway stations, including New Delhi Railway Station, Old Delhi Railway Station, Nizamuddin Railway Station, Anand Vihar Railway Terminal and Sarai Rohilla.
Free Tour Customization
from Experts