Central India Hotels / Resorts
Madhya Pradesh
Madhya Pradesh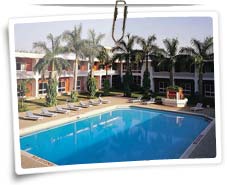 Madhya Pradesh is a land where not only humans but stones are equally capable of expressing emotions. This is the magic and charm of the extraordinary architectural beauty of this destination. Madhya Pradesh is truly a paradise for all kinds of tourists. Whether you are a lover of architectural beauty or a wildlife freak, the state will impress you to the hilt. The best time to visit Madhya Pradesh is from November to February.
Madhya Pradesh attracts tourists from across the globe and leave them enchanted with its ancient temples, beautiful mosques, mysterious caves, stunning forts, scenic beauty, dense forests and exotic wildlife. A trip to Madhya Pradesh is like stepping into the lap of Mother nature.
Some of the most fascinating destinations of Madhya Pradesh are Khajuraho, Ujjain, Gwalior, Indore, Jabalpur, Madhu, Pachmarhi, Bhandhavgarh National Park and Kanha National Park. Some of the UNESCO World Heritage Sites are located in Madhya Pradesh, which are architectural marvels. The annual dance festival at the temples of Khajuraho is one of the striking attractions of Madhya Pradesh.
For tourists coming to Madhya Pradesh, there is no dearth of great hotels. A wide variety of hotels are available here to cater to the needs of different tourists. Providing state-of-the-art facilities, there are several luxurious and heritage hotels  located in Madhya Pradesh. Some of them are Tiger's Den Resort, Tiger Trail's Safari Lodge, Nature Heritage Resort, Ken River Lodge, Lawania Jungle Resort and Jass Trident Hotel. You can also plan a stay at the wonderful heritage hotel like Noor Us Sabha Palace Hotel, Bhopal.
Madhya Pradesh houses hotels which are best for both holidaymakers and business travelers. The luxurious hotels are The Residency and the Lake View Ashoka, the Taj Chandela, Radisson Jass Hotel, Usha Kiran Palace in Gwalior, Sayaji Hotel in Indore, Orchha Resort in Orchha and Hotel Central Park in Gwalior. Apart from the luxurious hotels, Madhya Pradesh also offers four star hotels, three star hotels, economic hotels and budget hotels.
Free Tour Customization
from Experts