Assam Bengal Brahmaputra Cruises / Rhino Cruise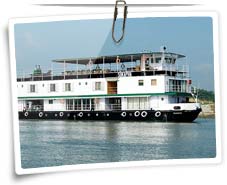 Featuring Wildlife And Wilderness
Cruising on a riverboat on the mighty Brahmaputra, world's highest river, is the best possible way to explore the untouched beauty of this unique region of India. Assam is popular as the gateway to India's most appealing North Eastern States of Arunachal Pradesh, Nagaland, Manipur, Mizoram, Tripura and Maghalaya. The entire region is nestled in the eastern Himalayas (south of Bhutan) and is a popular destination for wildlife. Boat cruises in the Brahmaputra River offers out of the world views of the dense greens, enchanting wildlife and vast tea gardens.
Brahmaputra River
The Brahmaputra serves as the lifeline of Assam. Originating in Tibet with the name of Yarlung Tsangpo river, it reaches Arunachal Pradesh with the name Dihang. Further it passes through the Assam Valley, and reaches Bangladesh with the name Jamuna river.
Assam is the place where the Brahmaputra and Ganga conjoin to give birth to the Sunderban delta and later fork out into the Hooghly and Padma tributaries.
Brahmaputra Cruises
The Brahmaputra river cruise was started in 2003. It is operated by Assam Bengal Navigation (ABN), an Indo-British operation with offices in Guwahati and London. ABN offers various luxury river boats, like Charaidew and the Sukapha. These boats are done to perfection with luxurious bedrooms, pantry, and water views.
These cruises can last as long as 12 days and can also include the Hugli River. The boat doesn't sail at night. Tourists are provided with breaks during the cruises for enjoying jeep safaris into the forests to spot rhinos and tiger, pre-dawn elephant safaris in Kaziranga and Manas National Parks, and birdwatching trips.
Rhinos can be spotted by the water in night. Apart from that, wild elephant, Indian bison, monkeys, deer, peacocks, mongooses tigers and leopards can also be seen here. Rhino Cruises are quite popular in the upstream and downstream areas. These are operated from Guwahati to Tejpur or vice versa. These cruises may be combined with the Tiger Cruises on demand.
Free Tour Customization
from Experts