Uttarakhand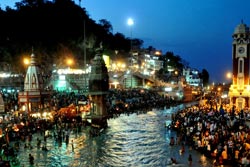 Nestling with enchanting vistas of the majestic Himalayas, Uttarakhand is a wonderful gift of nature where you can rejuvenate and refuel. Uttarakhand's natural facades are jaw dropping. From pristine rivers to high rising mountains, from rich wildlife to far stretched landscapes – this heaven on earth has enough charms to keep you hooked forever.  Hindu pilgrims call this state 'Dev Bhoomi' which means 'the Land of Gods'. It takes you through some of the most twisting roads and high-altitude hiking trails which lead to spectacular pilgrimage places.
Here are the top places to visit in Uttarakhand:
Dehradun
The capital of Uttarakhand, Dehradun is an emerald gem residing in the foothills of the Himalayas. It has been selfishly blessed by Mother Nature from all corners. Sahastradhara remains the most visited place here housing waterfalls, caves and far stretched steppe. Tiger Falls is also a photographer's delight with an altitude of 400 meters above sea level. Travellers visit here to explore the dense jungle around the waterfall. Robber's Cave of Dehradun also astonishes many with its unique natural phenomenon called the disappearing stream. Another popular attraction of Dehradun is the Mindrolling Monastery popular for being one of the largest Buddhist learning centres in the country. The Monastery is home to numerous rooms with murals apart from a 35 meters high gold statue of Lord Buddha.
Nainital
Nainital remains one of the most visited hill stations of India. Visit here and get awe struck with its emerald hills, old cottages, and strolling streets.  It has a unique old world charm which can be seen in various heritage buildings sprawling here. Naini Lake remains the best place to visit here to grab astonishing hues of blue water. Numerous water activities like boating, yachting and paddling are available here. Capture the glimpse of Naina Peak by taking a trekking expedition to this natural marvel. Climb up to the summit and view the best sunrise of your life here. Tiffin Top, built in a memory of painter Dorothy Kellet, is known for offering stunning views of the Himalayas. It is a perfect spot to plan a romantic date with nature. Nainital also houses the Jim Corbett National Park where you can spot the endangered Bengal tiger. Take a jeep safari through this National Park to catch the glimpse of wild cats apart from Rhesus Macaque, Langur, Sambar, Barking Deer, Nilgai, etc.
Mussoorie
Mussoorie is a popular honeymoon spot among newlyweds. Fondly called as the 'Queen of Hills', Mussoorie is all about snow-covered Himalayan peaks. Kempty Falls is a must visit place here for family vacationers. Take a refreshing splash in the pool here where numerous fun activities are available. Jharipani Falls bestow a more peaceful experience with some unseen facets of nature. The cascading Mossy Falls seem like enchanting music to ears. Apart from these, travellers must also explore the Mussoorie Lake which is an artificial lake with fun boating activities.
Rishikesh
The holy town of Rishikesh is apt for both religious as well as adventurous souls. It is home to uncountable shrines dedicated to various Hindu gods. Lakshman Jhula remains a central attraction for people visiting Rishikesh. The suspension bridge is 70 feet above the river and holds religious values. Neelkantha Mahadev Temple of the town is dedicated to Lord Shiva and is believed to be standing on the place where the Lord drank the Venom.  Rishikesh is renowned for various yoga ashrams located here where one can delve into this ancient art to balance their mind and body. Other than these, the foaming water of River Ganga offers travellers some great opportunities to partake in trekking, rafting and camping activities.
Haridwar
The literal meaning of Haridwar is 'Gateway to the Lord' due to the endless list of temples situated here. Pilgrims visit here from all over the world to perform various rituals along the ghats of River Ganga. Har Ki Pauri remains the most popular ghat of Haridwar. It is nestling with some of the most significant temples. The evening Ganga aarti at Har Ki Pauri is not to be missed as it lights up this ghat like a new bride with thousands of clay lamps floating on the water. Bharat Mata Temple of Haridwar is a massive temple with 8-storey structure. Each floor of the temple flaunts a different mythological story. Chandi Devi Temple, perched on Neel Parvat, is also visited by many by taking the cable car ride. It is believed that this temple has been built on the place where Goddess Chandi killed Chanda-Munda.
Kedarnath
A part of the Chota Char Dham pilgrimage, Kedarnath remains the most visited holy site in India. Kedarnath Temple is considered as the holiest temple dedicated to Hindu deity Shiva. The temple has mentions in the Mahabharata and is known for its amazing architecture. Gauri Kund also holds religious value as it is believed that Goddesses Parvati performed penance here to please her husband, Lord Shiva.
Badrinath
A part of the Char Dham, Badrinath is a major site among Hindu devotees. The Badrinath Temple located here is one of the 108 temples dedicated to Lord Vishnu. The temple has mentions in ancient Hindu texts and remains a must visit. There are Hot Springs located close to this temple. It s said these Hot Springs have religious and medicinal values. To catch some spectacular views of nature, a visit to the Neelkanth Peak is must. Located at an elevation of 3,474 meters, Neelkanth Peak is a challenging trek not for the faint hearted. Also, do not miss out the Valley of Flowers where over 520 species of flowers grow.
Almora
Away from the modern layers, Almora is a simple town known for its wildlife, culture and cuisines. Almora also houses numerous temples, including Kansar Devi Temple and Katarmal Sun Temple. The Binsar Wildlife Sanctuary located here houses over 200 species of resident and migratory birds, and offers stunning views of the peaks nestling around. To enjoy a day picnic with your family, Kalimut remains an ideal spot.
Kausani
A picturesque hill station in Uttarakhand, Kausani is blessed with flourishing pine forests and valleys. Travellers often visit here to ditch the city crowds and spend some moments in the lap of nature. The Rudradhari Falls and Caves here are situated amidst paddy fields and terraced hill farms. Take a trekking tour to reach the place which is perched at an altitude of 1,555 meters. It also houses the Kausani Tea Estate where you get an opportunity to taste the most flavoursome variety of tea. The hill station has deep history too which can be seen in the Anasakti Ashram located here. The Ashram exhibits a museum with Mahatma Gandhi's photographs and his writings. Also visit the historic Baijnath Temple which dates back to 1,000 years. The temple has been made in North Indian Nagara style of architecture, and its amazing surroundings add to its beauty.
Food
Since Uttarakhand has too many cities under its horizon, food of this state is also diverse in terms of flavours. Most of the dishes are made using commonly found ingredients which add a local tang to them. Kafuli is a popular dish made using Spinach and fenugreek leaves. Garhwal ka Fannah, a staple of Mussoorie, is also a treat for your taste buds. Another dish which is cooked in all local houses here is Phaanu made by mixing lentils. In Uttarakhand people love making Chutney to compliment the main food. Bhang ki Chutney (made using Hemp Seeds) remains popular due to its tangy taste. Til ki Chutney can be savoured during winter months. Those having sweet tooth must savour the taste of Jhangora Ki Kheer rich with the goodness of milk and dry fruits. Gulgula, made with simple ingredients, is another delicious sweet of Uttarakhand.
Shopping
Uttarakhand gives you enough opportunities to buy some great things which tell about the cultures of this state. The most popular items remain handmade accessories and gems, woodcrafts and woollen clothing. The Tibetan market of Dehradun remains flooding with woollens and authentic Tibetan products. In addition, the Basmati (rice) sold in the state is of really quality and can be bought from the well-known Paltan bazaar of Dehradun. While strolling through the local bazaars of Nainital, souvenirs like bright lac bangles, fresh apples, cherries and mulberries can be bought.
How to Reach
Dehradun's Jolly Grant Airport, Pantnagar airport and Pithoragarh's Naini Saini Airport are three major airports of Uttarakhand. The state also has great rail connectivity with numerous junctions. Road travel to Uttarakhand is exciting yet tricky. Many state buses run between Uttarakhand and other Indian cities. However, one must avoid road travel during rainfalls as the state experiences landslides in remote areas.
Free Tour Customization
from Experts