Pushkar Tour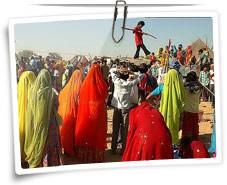 The Holy City Of Rajasthan
Pushkar is a sacred place located on the bank of the holy lake Pushkar, on the edge of wonderful Rajasthan. Pushkar is one of the most important Hindu pilgrimages held in high respect by the Hindus. Being one of the oldest cities of India, Pushkar finds mention in the great Hindu Epic Ramayana. According to a legend saint Vishvamitra performed yagna in Pushkar.
Surrounded by rolling hills on three sides, and dotted with several beautiful temples Pushkar is a beautiful place, whose attractions have brought it international fame.
Attractions of Pushkar
Pushkar Fair
Celebrated with great enthusiasm in the month of October/November in Pushkar city, Pushkar Fair is the world's largest cattle fair. The entire Rajasthan comes alive with the advent of this colourful fair. The fair starts on the occasion of Kartik Purnima( full moon night) and stretches for the next nine days. The fair is organized by the Government of Rajasthan and the number of participants of the fair keep growing year by year. Traders from far and wide come to the fair with their beautifully decorated cattle to strike good deals. Camel auctions and races are the prime attractions of the fair. The fair is famous for its well bred cattle. In recent years the fair has also included an exhibition cricket match between the local Pushkar club and a team of random foreign tourists. Several competitions such as the "matka phod competition", "moustache competition" and "bridal competition" are the other attractions of the Pushkar Fair. The Pushkar Fair also offers an opportunity to see the rich cultural heritage of Rajasthan. Tourists can buy a wide range of handicrafts from the stalls in the fair.
Pushkar Lake
Devotees from across the globe flock to the holy Pushkar lake on the occasion of Kartik Purnima every year. A famous pilgrimage of the Hindus, Pushkar Lake has a legend attached to it. According to the legend, Lord Brahma chose Pushkar as the site to perform his Vedic Yagna, when a lotus flower held in his hand dropped on Pushkar. As a result of which water spurted out from the place where the lotus fell.  The word Pushkar means 'born due to a flower'. It is believed that if one takes a holy bath at  Pushkar Lake on the day of Kartik Purnima, one gets rid of one's sins. It is also believed that the waters of Pushkar Lake are endowed with medicinal properties, which can cure skin ailments. After taking a bath in the lake the devotees head for the Brahma temple located near the lake. It is the only Brahma temple in the world. Devotees light butter lamps and release them into the waters of the lake. The view of the beautiful lamps is a sight to behold.
Free Tour Customization
from Experts