Andaman Nicobar Honeymoon Tour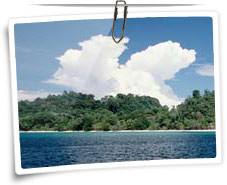 Give A Romantic Start To Your Life With Andaman & Nicobar Honeymoon Tour
Over 350 small and large islands, staggered like green speaks on the vast blue waters, preserve the natural beauty and treasures to be enjoyed to their extreme. Pack your bags and experience the real pleasure during your honeymoon trip to the amazing beaches at Andaman and Nicobar. These islands are situated between India and Myanmar (Burma), in the Bay of Bengal.
The sandy beaches of Andaman and Nicobar are home to Leather Back Turtle, Green Sea Turtle, Hawksbill Turtle and Olive Ridley Turtle, Water Monitor Lizard, Salt-Water Crocodiles, Reticulate Python etc. With its wildlife sanctuaries, tribal reserves, national parks, exotic wild orchids, dolphins, whales etc., this eco-friendly destination proves to be a paradise for the ecologists and ornithologists.
Natural And Historical Attractions of Andaman-Nicobar
Cellular Jail
Built in 1906 in Port Blair (the capital city), this is Asia's biggest jail (prison) where the Indian freedom fighters were tortured and kept in solitary confinement. The place is also known as "Kala Pani" (Black Water) as no prisoner sent there ever returned to the mainland. With its seven tiers, three floors and 698 rooms, the Cellular Jail today serves as a memorial in honor of those freedom fighters.
Nicobar Island
Covered with thick coconut groves and local huts, the Nicobar Islands are a chain of 19 islands. Popular for the spell-binding natural beauty, stunning marine life and adventure sports, Nicobar Islands are perfect to make your stay memorable.
Chatham Saw Mill
It is one of Asia's largest saw mills and is owned by the Government. The mill employs over 1000 people and tourists are permitted to see the process of felling and cutting and curing wood, without any charges.
Ross Island
The erstwhile capital of the British in Andaman and Nicobar, this island offers ruins of several churches, pools, government offices, market place and Gymkhana club. A renowned museum 'Smrithka' is also establishes here, which is maintained by the Naval force.
Wandoor Beach and Mahatma Gandhi Marine National Park
Located 29 km from Port Blair, this beautiful beach is surrounded by 15 islands. Mahatma Gandhi Marine National Park is established here covering an area of about 281.5 sq. km. One can have a splendid view of the coral reefs, deep sea animals and mangrove forests here and can enjoy boat rides to Jolly buoy Island and Red Skin Island.
Museums
Forest Department Museum (for wooden handicrafts), Samudrika (for corals, shells, fish, sea creatures, Navy costumes, equipments and weapons), Anthropological Museum (for weapons, pottery, hut models, wooden boats and photographs of the native tribes) and Fisheries Museum (for sea creatures and fish) are the most frequented places in Andaman and Nicobar.
Adventure Activities
Andaman and Nicobar offers marvellous opportunities for the nature as well as adventure loving couples, to enjoy and explore the rare forest life, flora and fauna and deep beaches. While on a trip to these enchanting islands, one can enjoy:
Mangrove Canopy Walk
Creek Safari
Bird Tours
Trekking
Island Camping
Beach Tours
Snorkeling / Scuba Diving
Best Time To Visit
October to May (post-monsoon season) is considered the best time to visit Andaman and Nicobar islands.
Accommodation
Despite being an isolated destination, it offers a number of beach resorts, hotels and cottages categorized in different classes and budgets. Couples can also enjoy a romantic stay at the camping sites near the sea shores in Andaman and Nicobar.
How To Get There
By Air
Port Blair is directly connected to Kolkata by air with five weekly flights. Besides, four flights every week are also operated between Chennai and Vishakhapattanam, after which one needs to go by sea route.
By Sea
Regular passenger ship services are operated from Chennai, Kolkata and Vishakhapattanam to Port Blair.
Recommended Tour Packages for Andaman & Nicobar
Free Tour Customization
from Experts