Sunderban Cruise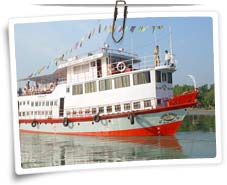 Sailing Through The Largest Estuarine Delta In The World
Experience a different kind of sailing down the river swamps in Sunderban. The largest mangrove forest in the world, Sunderban offers a perfect combination of relaxing travelling on the motor launch. Located in south of Bangladesh (about 130 km from Kolkata), the forest was established as a National Park on May 4, 1984 and was declared a world heritage site by the World Heritage Committee of UNESCO on December 6, 1997.
The entire region of Sunderban is ensconced between Rivers Brahmaputra and the Ganges- the two great Indian rivers, and River Meghna in Bangladesh. Covering an area of about 10,000 sq km, the two-third portion of the forest lies in Bangladesh and the rest one-third in India. Being a beautiful estuarine delta, Sunderban is full of Mangroves (tropical trees found near water, whose twisted roots grow partly above ground).
Exciting Cruises
Cruising at Sunderban is all about exploring the greens dissected by rivers, estuaries and creeks and tidal rivers. Cruising along the home of the Bengal tiger is actually a thrilling experience. Tourists can book their desired type of boats for short and long cruises, which are well equipped with all the modern amenities like bedrooms, attached bathrooms, personal tea/coffee maker, massage rooms, steam cum sauna, juice counter, library and TV etc. Life jackets are also provided during cruise and country boat ride from safety point of view.
Tourists are served local dishes specially and tastefully cooked by the trained local chefs. Much variety is not possible because of the remoteness of the area, yet best possible food is provided under hygienic supervision.
Excursions
While cruising along the entire area, one can have glimpses of animals like deer, monkeys, civet cats, monitor lizards, otters, Olive Ridley turtles, estuarine crocodiles, river terrapins, Gangetic dolphins, black fin-less porpoises, catfish, mud skippers, crabs, shrimps and lobsters. Motor boats also take you to various other nearby destinations like-
Kolkata Ghats
Namkhana (fishermen's cove)
Bhagabatpur (crocodile project)
Lothian Island (visited for a thrilling forest walk)
Netidhopani (300 year old temple)
Dobanki (deer rehabilitation centre)
Sajnekhali (Interpretation Centre)
Bali Village (typical Sunderban village)


Being located at a close proximity to the Bay of Bengal, Sunderban experiences very high humidity. The monsoon (mid-June to mid-September) receives heavy rainfall. The best season for cruising here is between October to March.
Free Tour Customization
from Experts