North India Wildlife Holidays
Bharatpur
Bharatpur National Park
Home Sweet Home Of Colorful Birds!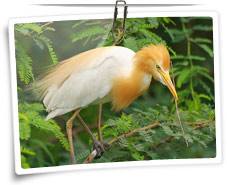 Also known as Bharatpur National Park, Keoladeo National Park is an internationally famed wildlife destination. Aptly called a paradise for bird lovers, the Park is a home to a variety of birds, both resident and migratory. It is one of the best Parks in Asia, which attracts tourists and ornithologists from all over the world. Declared as a World Heritage Site by UNESCO, the Park boasts of more than 380 bird species.
Located in Rajasthan, Keoladeo National Park was established in the year 1956. Once a hunting reserve of the Maharaja of Bharatpur, now the Park is the most famous bird sanctuary in Asia. Sprawling over an area of 29 sq km, it is named after an ancient Shiva temple located near it.
Wildlife in Keoladeo National Park:
At the Park tourists can treat their eyes with a variety of birds such as the Common, Demoiselle, the rare Siberian Cranes, several species of Cranes, Pelicans, Geese, Ducks, Eagles, Hawks, Shanks, Stints, Wagtails, Warblers, Coot Snipes, Red Crested Porhard, Flamingo, Rosy Pelican and Spanish Sparrow ,Wheatears, Flycatchers, Buntings, Larks and Pipits are a few to name. A variety of animals are also found in the Park such as Golden Jackal, Jungle Cat, Striped Hyaena, Sambar, Fishing Cat, Nilgai, Blackbuck, wild Boar etc. Indian Pythons are also spotted here.
Flora
The major portion of the landscape of Keoladeo Ghana National Park encompasses scrublands and grasslands. One can also find marshes in a particular area of the park. It also has a wide plantation of acacias, which was done under an afforestation program.
Other attractions inside the Park's boundary:
Bharatpur Government Museum:
This museum houses a variety of articles belonging to the erstwhile raja-maharajas of Bharatpur.
Lohagarh Fort:
Built by Maharaja Suraj Mal, the fortified fort has three stunning palaces. No ruler could ever conquer this fort.
Bharatpur Palace:
Built in the Rajput and Mughal styles of architecture, the palace is a must-see attraction.
Best Time To Visit
From August to February
Getting Around in the Park:
Once you are inside the park you can walk, hire a cycle rickshaw or move about on a boat.
How To Reach
By Air
The airport at Agra is the nearest airport, 54 kilometres from Bharatpur.
By Rail
Keoladeo Ghana National Park is located only 2 km from Bharatpur town. The town is well connected by trains.
By Road
Regular buses are available from Delhi (176 kilometres), Agra (50 kilometres) and other major cities of the country too.
Accommodation
A variety of accommodation options are available in Bharatpur town.
Free Tour Customization
from Experts