Puducherry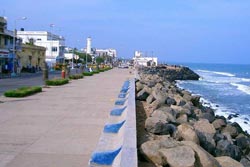 The French Riviera of the East, Puducherry is a Union Territory known for a unique colonial heritage and a string of small yellow-walled houses. It is one of the seven Union Territories of India. Travellers love Puducherry for its tiny houses, old hotels, cosy cafes and street-side shops. It also houses some of the most beautiful beaches where one can rejuvenate in true sense. Numerous tired souls visit here to indulge in the art of yoga and meditation as it is dotted with some popular ashrams. 
Here are the top places to visit in Puducherry:
Shri Aurobindo Ghosh Ashram
This remains the most visited attraction of Puducherry. It was founded by Sri Aurobindo and Mirra Alfassa (The Mother) in the year 1926. Some of the must-explored places of the ashram include library and the crafts centres. Do not forget to buy handmade papier mâché dolls made in the factory here. There is also a small cafeteria to enjoy light refreshment.
Pondicherry Museum
A pleasurably treat for the devotees of art and history, Puducherry Museum brings to you a huge display of sculptures, handicrafts and archaeological findings belonging to the Arikamedu Roman settlement. Also, spot some incredible looking furniture and coins from the French colonial time.
Botanical Garden
This garden has everything to keep visitors of all age groups and likes hooked forever. Catch the glimpse of six stunning fountains, a big aquarium with ornamental fishes, Japanese rock and a stunning children's train. Botanical Garden of Puducherry was laid in 1826 by C.S. Perrotet. It sprawls over an area of 22-acre housing 1500 species of plants. Do attend the musical fountain show performed here to understand the flora blooming here.
Auroville
Set up in 1968 by Mirra Alfassa, Auroville is an experimental township where people belonging to various nationalities, cultures and beliefs stay together peacefully. The most luring attraction of Auroville is the Matrimandir which is a modern edifice for integral Yoga practitioners.
Promenade
It is one of the liveliest areas in Puducherry where you can enjoy vistas of rocky beach, stroll around peacefully and unwind at the few cafes and restaurants dotted around.
Chunnambar Boat House
Located about 7 kilometres from Puducherry, Chunnambar Boat House bestows a unique experience to visitors. Explore the stunning looking backwaters and white sand beaches by hopping on this houseboat.
Food
The food in Puducherry is highly influenced from the French cuisine. Numerous restaurants here serve French food. Salad Niçoise, a fresh salad with tomatoes, tuna, hard-boiled eggs and anchovies, is a must try. Quiche is also found in many cafes here. Steak-frites, America's favourite French dish, is loved by every local here. Also, Coq au vin remains a favourite among non vegetarians. This is a classic French chicken casserole. Apart from this, the Union Territory also picks flavours from the neighbouring South Indian states.
Shopping
Puducherry brings to you numerous shopping opportunities. Visit the souvenir shop of the Aurobindo Ashram selling books, greeting cards and other memorabilia. There is also a factory close to the ashram where incense sticks, perfumed candles and handmade paper items are sold. Auroville gives enough opportunities to let you pick the best souvenirs, including handicrafts, handmade items, soaps of natural ingredients, perfumes, etc. Casablanca is another one of the trendiest shops of Puducherry selling international brands of home décor items, linen and leather goods. Soak yourself into shopping by visiting Mission Street lined up with charming shops and boutiques. This street is also great to get the glimpse of old French architecture.
How to Reach
Pondicherry airport can handle small aircrafts only which link it with Bangalore and Hyderabad. The nearest rail station from Pondicherry is Villupuram, 35 kilometres away from the town. The Union Territory is also well connected with major cities of South India via road.
Free Tour Customization
from Experts