White Water Rafting
Dandeli
Dandeli Tour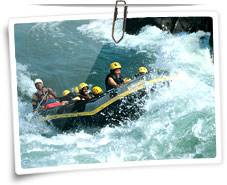 The Most Enchanting Gateway To Nature and Adventure
Unlimited excitement, 9-14 km of river rafting facility and a perfect blend of nature and adventure- Dandeli, in Karnataka, is an ideal destination for rafters. If you are an adventure enthusiast, Dandeli is the place for you. Located about 125 km from Goa, Dandeli is gaining popularity with the craze of water sports. A large number of rivers originate from Western Ghats, and Dandeli being located at a close proximity is blessed with River Kali.
Kali is a short and swift river located in North Karnataka on the borders of Maharashtra and Goa. It moves towards west and serves as an excellent whiter water rafting location.
Facilities For Rafting
Dandeli is a wonderful destination providing opportunities for white water rafting for non-swimmers as well as children above 12. you are provided with proper guide and training facilities. There are various tour operators that organize rafting and other water sports in the region.
River Rafting is one of the most adventurous sports at Dandeli. The river rafting facility is located here with class-2/class-3 rapids. The first and second rapids are the most important and are named 'Adi's Beard' and 'The Stitch' respectively. The other rapids located at river Kali are the Smugglers' Trove, the Stanley's Squeeze, etc. Overnight rafting trips are also available here. Average charges per person are about USD 25-40.
Best Season
Dandeli receives heavy rain in the months of June-September. Therefore, rafting is not allowed in monsoon season. Routes are open from November onwards. The months of November to June are considered the best for white water rafting in Dandeli.
The entire region is surrounded by dense deciduous forests. These forests are home to a number of wildlife animals. Dandeli wildlife sanctuary is also famous for thrilling safaris. Dandeli is a paradise for those who are in love with nature.
Other Adventure Activities at Dandeli
Rappelling
Trekking
Jacuzzi in rapids
Bird Watching
Jungle Safari
Kayaking
Canoeing
Moonlight Boat ride
Fishing
Overnight Camping
Croc Trek
River Island visit
Getting There
By Air
Belgaum (90 km), which is well connected to cities like Mumbai and Bangalore, is the nearest airport. Besides, Goa is 150 km far from Dandeli.
By Rail:
Alnavar (32 km), Londa (48 km), Dharwad (57 km) and Hubli (75 km) are the nearest railheads.
By Road
Dandeli is well connected to the major cities of India like Bangalore, Mumbai, Goa, Belgaum, Karwar and Dharwad.
Free Tour Customization
from Experts