Jammu and Kashmir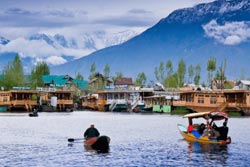 A pure heaven on earth, Jammu and Kashmir, a northern Indian state, is perhaps an ideal destination to delve into the wonders of Mother Nature. The scenic landscapes and snow-capped mountains of this state make every human soul fall in love with it. The state remains highly popular among honeymooners seeking some moments of serenity to start their new bond of love. It houses numerous wonders of nature apart from a rich historic background.
Here are the top places to visit in Jammu and Kashmir:
Srinagar
The capital city Srinagar is a blissful retreat for the seekers of peace amidst nature. Visit here and you will be showered with traditional Shikara boats, luxurious houseboats, snow-blanketed mountains and gleaming Dal and Nageen Lake. Every traveller visiting Sri Nagar always visits the renowned Hazratbal Shrine and Jama Masjid for seeking blessing of Prophet Mohammad.  Srinagar is also a great option for numerous fun activities like bird watching in Dachigam Wildlife Sanctuary; water skiing in Dal Lake, Nagin Lake and Bod-dal; golfing in Kashmir Golf Course; trekking in Pir Panjal; and boating in Shikara ride on Dal Lake and Nagin Lake.
Leh
Leh is known for its untouched beauty and exciting adventure activities. Experience a ride across rough mountains, shimmering lakes, divine Gompas and clear skies. It is a popular destination among adventure lovers looking for mind blowing adventurous activities like Trekking and Mountain Biking.  Leh is also known for various monasteries dotted here, including Alchi Monastery, Hemis Monastery, Matho Monastery, Spituk Monastery and Thiksey Monastery.
Jammu City
The city of temples, Jammu is known for housing the very popular Hindu pilgrimage, Mata Vaishno Devi. The city houses more than its fair share of temples, including Raghunath temple, Ranbireshwar temple, Mahamaya temple, Peer Baba and Peer Khoh.  The Bahu temple of Jammu is a must visit located inside the splendid Bahu Fort. This temple is visited by all locals as it is dedicated to presiding god of Jammu. The Aquarium at Bagh-e-Bahu (Bahu Fort) also lures all visitors as it remains the biggest underground aquarium in India. 
Rajauri
When it comes to nature, the beauty of Rajauri is matchless. Located around 154kms away from Jammu, Rajauri is blessed with some stunning places to visit, including Dehra Ki Gali, Thanna Mandi, Kotranka Budhal, Rajauri Fort, Balidan Bhavan, Dhanidar Fort and Rama Temple. Rajauri makes a great summer escapes for people seeking a cooler place to rest.  
Gulmarg
Renowned with the name of skiers' paradise, Gulmarg is truly a paradise for adventure seekers. Visit here and partake in some exciting activities, including skiing, trekking, snowboarding, golfing and mount biking. Gulmarg is blessed with the most scenic landscapes which can be cherished by visiting Nagin Valley, Khilanmarg, Frozen Lake and Bota Pathri.
Udhampur
Udhampur was named after Raja Udham Singh. This second biggest city of Jammu is flourishing with emerald surroundings including eucalyptus trees. This city is a great temptation for history lovers as its Krimachi group of temples look epic. The underground river Devika here is believed to be the sister of the holy river Ganga. Also do visit the Ramnagar fort here which was raised by Raja Suchet Singh. Moungri Cave shrine, Pingla Mata and Sudh Mahadev temple are some other prominent places to visit in Udhampur.
Kathua
The City of Sufis, Kathua resides on the bank of a river. It remains drenched into spirituality with numerous spiritual places to explore, including Jasrota temple (inside Jasrota fort), Mata Sundrikote, Mata Bala Sundri, Sapt Sarober and Airwan temple. For family vacationers, the recreation park called Dream remains a pleasurable dream where they can have a whale of a time with their little ones. Spirituality seekers must visit the temple of Maha Kali in the Jasrota village blending together religion and cultures of the place.
Patnitop
The most popular hill station of the state, Patnitop sits at an altitude of 2024m. Patnitop offers heart warming vistas of the Shivalik Range and is known for its pristine beauty. Visit Gourikund here holding religious values. Take a leisurely walk across the Pine forest or partake in activities like trekking, paragliding, rock climbing and camping. Patnitop has everything for everyone.
Food
Food of Jammu is inspired from two separate cultures, including Kashmiri Pandits and Muslims. Kashmiri Pulao and Kashmiri gravy remain famous for their authentic taste. Also, Dogra dishes like Aloo Dum and Rajma remain must try and are served in all local restaurants. Kashmir is highly popular for non vegetarian dishes. Try meat dishes like Rogan Josh, Yoghurt Lamb Curry, Matschgand, Kashmiri Muji Gaad and Aab Gosht to fall for gluttony. Ladakh is a place to try herbal tea made with fresh green tea leaves, salt and butter.
Shopping
Shopping in Jammu and Kashmir is a blissful retreat. You get to choose from a range of options available. Kashmir's Pashmina shawls and stoles are world renowned. Travellers also love buying hand knotted carpets from here made of wool or silk. Walnut wood carving of Kashmir is famous and is used for making furniture and souvenirs. For some decorative items, vibrant Paper Mache Products are ideal picks. These come in various colours and sizes and make affordable gift items. Do not miss a chance to buy Saffron from here as it is highly pure here.
How to Reach
Travellers can fly down to Jammu & Kashmir by taking flight to Jammu Airport in Jammu City, Aerodome Airport in Srinagar or Kushok Bakula Rimpochee Airport in Leh. Those visiting by rail can land at the Jammu-Tawi Station, well connected with all the major cities in India. The National Highway 1A links Jammu & Kashmir to the rest of the country and offers great road trips.
Free Tour Customization
from Experts