North and Western India Hotels / Resorts
Rajasthan
Rajasthan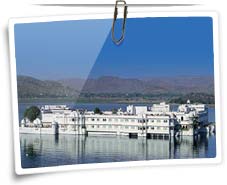 Rajasthan is synonymous with luxury, which can be best experience in its opulent forts, palaces and havelis. Rajasthan, the land of Raja-Maharajas spellbind many a tourist from different parts of the world. Royalty and luxury are the hallmark of Rajasthan. The extremely beautiful and luxurious palaces, forts and havelis of Rajasthan are the places where in the bygone era the Raja-Maharajas lived large. Most of the regal abodes of the kings of Rajasthan have now been converted into heritage hotels to give a 'royal experience' to tourists. Experience the lifestyle of the Maharajas by planning a stay at any of the heritage hotels.
The facilities and services offered at the heritage hotels in Rajasthan are simply unmatched. 'Aathithi Devo Bhav' are the words Rajasthani live by. Each heritage hotel of Rajasthan has its own unique enchantment and appeal. The perfect and splendid interiors of the heritage hotels will surely leave you awe-inspired.
Offering luxury to the hilt, the heritage hotels in Rajasthan have mind blowing interiors with amazing glass work, brightly painted ceilings, royal paintings, flawless crystal work and antique furniture. The moment you step into such royal abodes, you will surely feel transported to a different world altogether. The Khidmatgar (attendants) are always at your service to make your stay full of comfort and pleasure. Most of the heritage hotels impresses their guests by giving them a warm welcome by greeting them with the royal music of trumpets accompanied with the salute of the finely decorated elephants. How exciting!
Some of the famed heritage hotels in Rajasthan are:
Lake Palace, Udaipur
Devigarh Palace, Udaipur
Umaid Bhawan Palace, Kota
Ajit Bhawan Palace, Jodhpur
Rambagh Palace, Jaipur
Fort Rajwada, Jaisalmer
Lalgarh Palace, Bundi
City Palace, Udaipur
There is so much to experience and enjoy at the heritage hotels of Rajasthan. Are you ready to experience the glory and luxury of the bygone era!
Free Tour Customization
from Experts