Ex-Delhi
Hills
Mukteshwar
Mukteshwar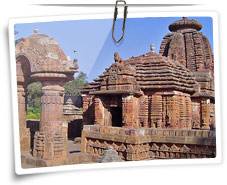 The Land Of Scenic Splendors
Named after Lord Shiva, this idyllic hill station is called the land of natural wonders. Mukteshwar is a small hill station in the Kumaon district at an altitude of 2286 m. Located 50 km from Nainital and about 350 km from Delhi, Mukteshwar is surrounded by a thick wooded forest. This splendid hill station offers a majestic sight of the Himalayas. In the full-moon night Mukteshwar also offers a spectacular view of the sparkling Almora town and the majestic peaks of Adi Nampa of Nepal (stretching up to the Chaukhamba Peaks of Garhwal).
A major part of the dense greens is covered with fruit orchards and thick coniferous forest. The main attraction at Mukteshwar is the old temple of Lord Shiva that exists on top of a rock. A stone hole called 'Chauli Ki Jali' is also situated quite close to the town, and is also dedicated to Lord Shiva.
Major Attractions
Mukteshwar Temple
The most distinguished attraction of Mukteshwar is the Mukteshwar temple. Located at an altitude of about 2315 m, this temple offers panoramic views of the Himalayas. The temple is dedicated to Lord Shiva and its actual beauty lies in the stone stairs.  The temple has a 'white Shiva Linga', which is surrounded by the idols of Lord Brahma, Lord Vishnu, Goddess Parvati, Lord Ganesh, Lord Nandi and Lord Hanuman.
Ramgarh
Loaded with apple, plum, peaches and apricot orchards, Ramgarh (26 km from Mukteshwar) is the rich fruit belt of Kumaon.
Bhowali
It is a peaceful health resort situated 40 km from Mukteshwar at an altitude of 1706 m. on the Haldwani-Alrnora road.
Ghorakhal
Ghorakhal, 37 km from Mukteshwar, is visited for the temple of Gollu Deva, the god of the Kumaoni people.
Adventure Sports
Mukteshwar, despite being a small hill station, draws thousands of adventure enthusiasts every year. People try out adventure activities like rock climbing, rappelling, camping, night hiking, river crossing and trekking at Mukteshwar. Chauthi Jali is a good place for rock climbing and rappelling, and Mukteshwar to Sitla (5 km) is a major trek route.
How To Reach
By Air
The nearest airport is at Patnagar (about 65 km). From there, one needs to take a bus or taxi to reach Mukteshwar.
By Rail
Kathgodam (73 km via Bhimtal & 76 km via Jeolikot-Bhowali) is the nearest railhead.
By Road
Mukteshwar is easily accessible from Nainital (50 km), Bhowali (39 km) and Ramnagar (25 km) by bus or taxi.
Free Tour Customization
from Experts