Ex-Delhi
Hills
Dharamshala & Mecleodganj
Dharamshala & Mecleodganj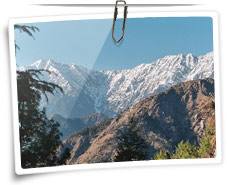 Dramatic Mountain Ranges & Spirituality In The Air
Dense pine and deodhar forests, numerous streams, cool healthy air, attractive surroundings and the nearby snowline in the Kangra district form a perfect destination for your holidays. Dharamsala is known for perfect vacations in the backdrop of snow clad peaks of Dahuladhar mountains. Located 85 km from Pathankot, it is perched at an altitude of about 2000 m. The entire valley is surrounded by Pine, Deodar and Rhododendron forests. Dharamsala, because of its heavy tourist crowd, is known as quite cosmopolitan city.
It is divided into two main parts namely, upper and lower. The upper part is known as Mcleodganj, which was originally the home of the semi nomadic Gaddi tribe. Today, it serves as the abode of His Holiness, the Dalai Lama, who settled here after the Chinese invaded Tibet. The town is blessed with Tibetan culture, and therefore is frequented for beautiful and majestic monasteries. McLeodganj is steeped in Buddhist culture.
Prime Attractions
War Memorial is the most popular attraction of Dharamshala. It is built in the memory of those post independence war heroes of Kangra district of Himachal Pradesh who died in Indo China war of 1962, Indo-Pak wars of 1947, 1965 and 1971 and UN peace operations.
Dal Lake near Dharamshala offers a perfect spot for family holidays. Surrounded by lush green tall deodar forests, the lake serves as a romantic destination for watching sunrise and sunset as well.
Popular for its religious values, the temple of Goddess Chamunda Devi is another prime attraction at Dharamshala. Apart from its religious importance, the temple also offers breathtaking views of the high mountains and the forests of Baner Khud, Lahala and Pathiar.
Once the stronghold and seat of the Katoch rulers, the Kangra Fort is a major sightseeing destination. The Katoch rulers ruled the land for over 2000 years. The firt, today, stands in ruins because of the devastating earthquake that hit the area in 1905.
Kangra Art Museum, inaugurated in 1990, is known for marvellous collection of arts, crafts, artifacts, costumes and other treasures dating back to the 5th century. It is situated in Kotwali Bazaar of Dharamsala.
Library of Tibetan Works and Archives (LTWA) is a wonderful place to explore the Tibetan culture. Founded by the 14th Dalai Lama, the library is situated at McLeodganj and serves as an institution to preserve and promote Tibetan culture. It stores almost 40 percent of the original Tibetan manuscripts making it a depositary of the rich Tibetan culture.
Founded by Sonam Gyatso, the third Dalai Lama, the Namgyal Monastery is a true tourist's delight at McLeodganj. This monastery was built in the year 1575 with a purpose was to assist the Dalai Lama in his spiritual duties and public religious activities.
The hill station is also an ideal spot for Yoga and Meditation classes.
Fairs & Festivals
Losar is the most popular festival of Dharamshala and the nearby regions. It is celebrated as Tibetan New Year in late February-early March. Ritual dances, traditional music and mouth-watering delicacies are the main attraction of this festival.
Saga Dawa is a festival dedicated to Lord Buddha. People believe that Sakyamuni (Buddha) was conceived by his mother Queen Mayadevi on the 15th day of the fourth month of the Tibetan calendar. After 35 years, on the same day, he attained complete enlightenment; and to top it all off, he passed into parinirvana, the ultimate state of peace, on the same day.
Dal Fair is organized annually in the month of August-September near the Dal Lake (1,700m). The festival is celebrated by Girths and Gurkhas (hill tribes) with full vigor and enthusiasm. Traditional feasting and dances are the main attractions of the fair.
Shopping
McLeodganj and Dharamshala Bazaars are famous for a wide variety of carpets and handicrafts (metalware, jewellery, jackets, handknitted cardigans and gloves). The local tribes and Tibetis are considered expert in designing textiles, wool carpets, and such handicrafts. Besides, you can shop for a number of books based on Tibetan religion, culture, music folksongs and Tibetan chants.
Getting There
By Air
The nearest airport is Gaggal airport (15 km).
By Rail
Kangra and Nagrota (about 20 km south of Dharamsala) are the nearest railheads. Besides, Pathankot connects Dharamshala to Jammu by railway line.
By Road
These hill stations are well connected to Delhi and all the major cities of Himachal Pradesh by State transport deluxe as well as semi-deluxe buses and taxis.
Free Tour Customization
from Experts