Standard Orissa Tour
South India tour packages are designed to cater your every mood. If you with to experience the culture and art of South India, choose an Orissa Tour Package. You will be mesmerized by exploring the beautiful region along with colourful celebrations of the occasion called life.
Duration: 08 Nights - 09 Days
Destination Covered: Delhi - Bhubaneswar - Puri - Chilka Lake - Gopalpur - Bhubaneswar - Delhi

Tour Highlights
Delhi
Red Fort, Raj Ghat, Jama Masjid, Chandni Chowk , India Gate, President House, Humayun Tomb & Qutub Minar
Optional Sound & Light Show at Red Fort & dinner at Chor Bizarre
Bhubaneswar
Temples Lingaraja, Parashurameshwara & Mukteswara
Dhauli
Peace Pagoda known as the Shanti Stupa
Pipli village
Orissan Handicrafts
Konark
Sun Temple
Puri
Jagannath Temple, Beach
Chilka Lake
Birds sanctuary
Raghurajapur
Tribal Village
Gopalpur
Ancient sea port & Beach
Detailed Itinerary
Day 01 - Arrive Delhi
Arrive by International flight, after traditional 'Swagat' (Welcome) our representative would assist you at airport & transfer to hotel for check in.
Delhi is a bustling metropolis, which successfully combines in its folds the ancient with modern. Its strategic location was the prime reasons why successive dynasties chose it as their seat of power. In fact, more mythological cities are believed to be here, like the city of Indraprastha from the Hindu epic Mahabharata, founded around 5000 BC. Numerous monuments were built over several centuries by different rulers like Qutub-ud-din Aibek, Alauddin Khilji, Tughlaks, Humayun & Shah Jahan, who built the Walled City Shah Jahanabad.
Later in first half of 20th century much of New Delhi was planned by Sir Edwin Lutyens, who laid out a grandiose central administrative area as a testament to British rule in India. The division in walled city & New Delhi also marks the division in life styles.
Overnight Hotel – Delhi (B)
Day 02 - Delhi - Bhubaneswar (By Flight)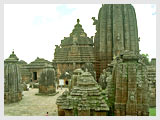 Today we take a flight to Bhubaneswar, the temple city of India. Once the capital of ancient Kalinga, the city has a long history & is today a bustling centre for commerce & religious activity. These temples are unique in themselves, not only in their architectural beauty but also in the wonderful sculptures. These temples epitomize a comprehensive history of Orissan style of temple architecture from its very inception to perfection spreading almost to 2000 years from 3rd century BC to 16th Century AD.
Full Day Tour
Later we take a tour of Bhubaneswar visiting Lord Shiva Lingaraja Temple, the 11th century temple of Bhubaneswar has been described as "truest fusion of dream & reality." A rare masterpiece, the temple has been rated one of the finest examples of purely Hindu temple. Every inch of the 55 m-high Lingaraja temple is covered with elaborate carvings. Sculpture & architecture fused elegantly to create a perfect harmony. Next we visit Mukteshwara Temple, a 7th-8th century AD is one of the most ornate temples in Bhubaneswar. The intricate carvings of the deities stand testimony to the influence of Hindu, Buddha & Jain style of architecture. The carvings on the roof are specially striking.
We also visit Parashurameshwara Temple, a small but richly decorated shrine of Shiva that was built in the 7th century. It is one of the best examples of the Orissa style of temple architecture.
Overnight Hotel – Bhubaneswar(B)
Day 03 - Bhubaneswar – Puri via Dhauli, Pipli village & Konark (56 Kms - 02 hr)
Today we drive to Puri, en-route visit Dhauli & Pipli village & Konark (Sun Temple). First we stop at Dhauli, where MauryanEmperor Ashoka the Great renounced bloody warfare & embraced the teachings of Buddha after victory over kingdom of Kalinga. Here we visit Peace Pagoda known as Shanti Stupa built in early 1970 by Japanese. Also visit two ancient rock edicts, today eclipsed by the presence of the Pagoda. Dating from 260 BC they outline Ashoka's detailed instructions to his administrators to rule with gentleness & fairness. Next we visit the Colorful Pipli village, where Orissan Handicrafts, the specialty is applique work.
Later we drive to Puri en route we visit Konark temple Chariot of the Sun God, built by King Langula Narasimha Deva in the 13 century AD in the Golden era of Orissan art. This crowning piece of Orissan architecture & sculpture is sheer poetry on stone.
Overnight Hotel – Puri(B)
February Attraction: Performance of the Annual Dance Festival which is held by the stunning ruins of the Sun Temple. Renowned exponents of Indian classical dance forms participate at this festival.
Day 04 - Puri
Today we visit the famous Jagannath Temple, dedicated to Krishna (Vishnu) in his deity form of Jagannath, meaning Lord of the Universe (Jag translates to Universe, nath means Lord). The present temple structure was built by Ananta Brama Chodaganga Dev in middle of 12th century AD (1078-1147 AD). It is a curvilinear temple which rises to 214 feet. Crowning the very top is the 'srichakra' (an eight spoked wheel) of Vishnu. The most important festival is the Rath Yatra or the Chariot festival once a year.
Later we explore the Puri beach, one of India's finest beaches. Puri Beach attracts millions of travelers to India with its strategic setting & religious importance.
Overnight Hotel – Puri (B)
Day 06 -
Puri – Gopalpur via Chilka Lake (200 km- 05 hr),
Puri – Gopalpur via Chilka Lake (200 km- 5 hr)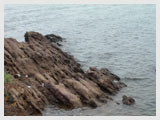 Today we drive to Gopalpur en-route visit Chilka Lake, famous for its bird sanctuary. It is Asia's largest inland salt-water lagoon. Studded with small islands including the picturesquely named Honeymoon Island & Breakfast Island, the lake is separated by a sandy ridge. It is dotted with small islands & has an impressive array of bird life both native & migrant. White bellied sea eagles, graylag geese, purple moorhen, jacana, herons & flamingos are most popular bird species found. Other than the birds, its shores are home to black buck, spotted deer, golden jackals & the lake is rich in aquatic life, its water harbor various species of fish including the famous Chilka dolphin. Prawn, crab & mackerel fishing is an important source of livelihood for the locales.
Later drive to Gopalpur on Sea, ancient sea port not often visited by tourists. Sand dunes, groves of coconut palm & casuarinas separate the small town from the beach.
Overnight Hotel – Gopalpur (B)
Day 06 – Day 07 - Gopalpur
Days at leisure
Overnight Hotel – Gopalpur (B)
Day 08 -
Gopalpur - Bhubaneswar (200 km - 05 hr),
Bhubaneswar - Delhi (By Flight)
Today we drive to Bhubaneswar to board the flight to Delhi. Upon arrival assistance & check-in hotel
Overnight Hotel – Delhi (B)
Day 09 - Depart Delhi –Transfer
Today we take a guided tour of Old Delhi, the 17th century walled city of Shah Jehanabad, Visiting the great Jama Masjid, the principal mosque of Old Delhi. Built in the year 1656 AD by the Mughal Emperor Shah Jahan, it is the largest & best known mosque inIndia. Later we walk down or take a rickshaw ride through Chandni Chowk, the old marketplace of Shah Jehanabad now a picturesque bazaar to reach Red Fort, built in the year 1648 by Shah Jehan.
In New Delhi, we visit Raj Ghat, memorial to the Father of the Nation, Mahatma Gandhi. It is a simple black marble platform that marks the spot of his cremation on 31 January 1948. Further we drive past India Gate, memorial built in the year 1931 to commemorate the Indian soldiers who died in the World War I & the Afghan Wars. The names of the soldiers who died in these wars are inscribed on the walls. President's House, the official residence of the President of India, built in the year 1931. Until 1950 it was known as Viceroy's House & served as the residence of the Governor-General of British India. We will also visit Humayun's Tomb, memorial of Mughal Emperor Humayun, built in the year 1562. The complex is a World Heritage Site & the first example of this type of Mughal architecture in India. Qutub Minar, built in the year 1206 by Qutub-ud-din Aibek. It is the tallest (72m) brick minaret in the world, an important example of Indo-Islamic Architecture. Qutub Minar & its monuments are listed as a UNESCO World Heritage Site.
Later dinner & transfer to airport.
Our tour concludes: We thank you for your patronage & ensures a punctual transfer to the Airport for your onward travel.
Package includes:
08 Nights accommodation on twin sharing basis with early check in facility.
Buffet breakfast.
A-C transportation as per the itinerary (No transportation on leisure days).
English speaking Guide for the Tour.
Package does not include:
Any airfare or airport tax.
All presently applicable taxes.
Expenses of personal nature.
Monument charges.
Any other expenses not mentioned in the cost include.
Free Tour Customization
from Experts