North East - Seven Sister Tour
North East - Seven Sister Tour
Duration: 21 Nights - 22 Days
Destination Covered: Routing - Guwahati - Tezpur - Bomdila - Tawang - Bhalukpong - Kaziranga - Dimapur / Kohima - Imphal -Aizaul-Agartala-Silchar-Shilong-Guwahati

Detailed Itinerary
Day 01 : Arrive Guwahati
Arrival by flight in Guwahti, after traditional Swagat by our representative & transfer to Hotel & Check in. (Check in time at the hotel is 1200 hr)
Later the day at leisure.
Evening enjoy River Cruise: A River Cruise on the mighty Brahmaputra is a wonderful opportunity to get a feel of this legendry river.
Overnight at hotel- Guwahati
Day 02 : Guwahati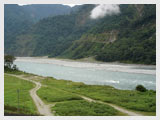 Morning after breakfast we take half day guided city tour of Guwahato, We visit Kamakhya Temple: The Kamakhya Temple dominates the life of Guwahati, as much as does the great Brahmaputra River. The temple, situated high aloft a hill called Neelachal Parbat or Kamagiri in the city of Guwahati is one of its several religious landmarks, which speaks volumes about the rich historical treasure over which the state of Assam is seated. The Kamakhya Temple had been built in reverence to Goddess Kamakhya or Sati, who was one of the numerous incarnations of Goddess Durga or Goddess Shakti.
Bashista Ashram: Dating back to the time when the great sage Vashista visited this spot on confluence of the Sandhya, Lalita and Kanta stream, and set up his ashram here.
Shankardev Kalakshetra: a place where Assamese history and culture is depicted in a sprawling open enclosure.
Overnight at hotel-Guwahari
Day 03 : Guwahati / Tezpur (185 Kms 4 hrs drive)
Morning after breakfast depart for Tezpur, "The city of Blood". Arrive and check in at hotel.
Afternoon we visit Tezpur : "The city of blood" (as a result of the great mythological war faught between Lord Krishna and Lord Shiva), Tezpur is 174 kms away from Guwahati. The remains of 5 th – 6th century stone temples have been discovered in nearby Da Parbatia.
Overnight hotel-Tezpur
Day 04 : Tezpur / Bomdila (165 Kms, 4 ½ hrs drive)
Morning after breakfast depart by car for Bomdlia. En route we visit Bhalukpong: Situated on the Assam-Arunachal border, 250 kms from Guwahati, Bhalukpong is another picturesque spot for angling and leisurely picnics.
Tipi: An Orchidarium at Tipi (5 kms from Bhalukpong) is the Botanical paradise of the state. About 300 specis can be seen in the flora – glass house. Some of them are rare and endangered species. By the side of the glass house there is an orchid museum too. Arrive Bomdila and check in at hotel.
Bomdila: At a height of 8500 ft, Bomdila is the headquarter of West Kameng District, the land of the Monpa, Sherdukpen, Aka (Hrusso), Miji and Bogun (Khawas) tribes.
Later Visit craft center, where very fine wooden carpets of colourful designs and Masks are produced, Buddhists Monasteries, Ethnographic Museum and shopping center.
Bomdila also offers a Bird's eye view of Kangto and Gorichen peaks (highest peaks in the state) amidst the Himalayan landscape and snow clad ranges.
Overnight hotel-Bomdila
Day 05 : Bomdila / Tawang (180 Kms, 5 hrs drive)
Morning after breakfast depart by car for Tawang.
En route we visit Jaswant Garh: 14 kms from Sela Pass the war memorial raised to pay homage to Jaswant Singh, Mahavir Chakra awardee of 4 Batallion Garhwal Rifles is a place where patriotic emotions of all Indians find a natural ex-pression
Sela Pass: One of the world's highest pass at 13714 ft. height, which runs through a small ridge and along the paradise lake.
Dirang: It is a small hill resort which is famous for the breathtaking views of the snowy Himalayan ranges and its orange farms.
Arrive Tawang and check in at hotel. Evening free at leisure.
Overnight hotel-Tawang
Day 06 : Tawang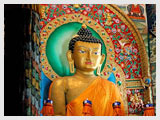 Morning after breakfast explore Tawang, visiting Tawang Ganden Namgyal Lhaste : Popularly known as the Tawang or Gompa Monastery, is a 400 years old Mahayana Sect Buddhist Monastery. It was built during the 17th century AD by Mera Lama, a contemporary of the 5th Lama. It is situated at a height of 3500 m near the Buddhist border. It is a place worth paying a visit because of the collection of huge scriptures, books, gold lettered Buddhist scriptures, images and tapestries. The Parkhang Hall of the monastery has the library with the rare hand-written and block-painted thankas or manuscripts of revered books like Tangun, Kangyur and Sungbhum. The 108 gold-embossed manuscripts of the 'Teaching of Lord Buddha' and 225 volumes of the explanations of Buddha's teachings covered with specially designed moth - proof silk adorned with paintings are the other rare works of Buddhist literature. The18 ft high gilded statue of the Buddha in the monastery complex is also worth watching. The festival of Torgya is held in the 11th Monpa month called the Dawa Chukchipah in the Tawang Monastery. A Craft Center here produces fine woolen carpets in various colorful designs.
Urqelling Monastery is the birthplace of the 6th Dalai Lama who is the only Indian to have risen to such a high position in Gelupka Sect of Buddhism so far. These monasteries along with several other monasteries and nunneries are visited by several tourist from all over the world all the year round.
The Craft Center: The craft center in Tawang sells beautiful masks, hand woven carpets, jewellery in silver, coral and amber, 'chubas' the local dressand delightful affordable mementos
Rest of the time free to explore the town by your own.
Overnight at hotel.
Day 07 : Tawang / Bhalukpong (280 Kms, 6 hrs drive)
Morning After an early breakfast drive back to Bhalukpong. Arrive Bhalukpong and check in at the riverside resort.
Rest of the time free to explore the nature at your own.
Overnight hotel-Bhalukpong
Day 08 : Bhalukpong / Kaziranga (161 Kms, 4 hrs drive)
Early morning drive to Kaziranga National Park
Kaziranga National Park: The oldest park in Assam, Kaziranga, on the south bank of the Brahmaputra River, is world famous for its great Indian one – horned rhinoceros, of which there are aplenty. Spread across 430 sq kms, it is a dazzling mosaic of dense rain forest, tall elephant grass and swathes of reeds interspersed with vast tracts of marshes and shallow pools that are a favourite haunt of this celebraty pre-historic beast. Wild elephant, hog deerand barasingha also abound. Book in advance for at least a night's stay at the forest lodge to catch those early morning views of him from elephant back. Jeep safaris are also arranged. This National Park is 217 kms from Guwahati and 96 kms from Jorhat.
En route enjoy the beautiful tea estates of Assam. Arrive Kaziranga and check in at the Jungle Resort
Overnight at Jungle Lodge-Kaziranga
Day 09 : Kaziranga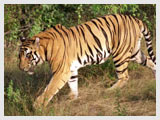 Early morning enjoy the elephant safari in the central (Kohora) range of Kaziranga. Later return to the resort for breakfast.
Afternoon enjoy the exclusive Jeep safari in the western (Bagori) range of Kaziranga.
Overnight at Jungle Lodge-Kaziranga
Day 10 : Kaziranga / Dimapur / Kohima (210 Kms, 6 hrs drive)
Morning after breakfast depart for Nagaland. Enroute visit the hot spring in Garampani.
Arrive and check in at hotel in Kohima. Rest of the time free at leisure.
Overnight hotel- Kohima
Day 11 : Kohima
Morning after breakfast we visit Kohima village: As you enter this village, you notice a number of traditional wooden gates with the scimitar of horns of Mithun. In this village, one comes across wooden carvings looking like horns atop some houses.You can also see relics of stone erections here and there in front of the houses which are memorial symbols of the grand feasts offered by their ancestors.
The Kohima War cemetery : It was constructed in memory of the officers and men who made supreme sacrifices during World War II. On each grave there are beautiful epitaphs engraved in bronze.
The state museum: It has a rare collection of artifacts of the different tribes, which inhabit the state. It depicts the different aspects of life of the people in all its varied forms.
Overnight hotel- Kohima
Day 12 : Kohima / Imphal (260 Kms, 7 hrs drive)
Morning after breakfast depart by car for Imphal. arrive and check in at hotel.
Overnight hotel- Imphal
Day 13 : Imphal
Morning after breakfast we visit: Manipur Zoological Gardens: Eight kilometers from Imphal, at the foot of the pine-covered hillocks, you will find a wealth of rare birds, animals and reptiles at the Manipur .
Zoological Gardens. In the zoo's sylvan surroundings, you will even get a glimpse of one of the rarest species of deer in the world, the graceful brow-antlered thamin deer .
Khonghampat Orchidarium: there is the Khonghampat Orchidarium that has more than a hundred rare varieties of orchids. The best time to visit the orchidarium is in the months of April and May when the orchids are in full bloom.
Khwairamband Bazaar: One of the main features of Imphal is the Khwairamband Bazaar. What makes this market different is thatit is run by women. Split into two sections on either side of the road, it has tribal women clad in colorful, traditional attire, selling everything from hand-woven shawls, skirts, vessels, mugs and mats to fish, lotus, oranges and orange-flavored honey. And if you wander in the quaint by lanes around the market, you will get a glimpse of Manipur's customs and traditions.
Shri Govindajee Temple : The core of Imphal's traditions, however, lies in its various temples. The most important of these is the Shri Govindajee Temple, a historic center for Vaishnavites. A simple, twin-domed structure, it adjoins the magnificent palace of the former rulers of Manipur. Constructed in the early 18th century under the Rajarishi Bhagyachandra regime, the temple comes alive during festivals when thousands of people come to offer prayers. In fact the best time to visit it is during Holi, also known in Manipur as Dolijatra or Yaosong when boys and girls do the Thaba Changba folk dance, all night. In the center of the temple stands the presiding deity, Lord Vishnu flanked by the shrines of Balarama and Krishna on one side and Jagannatha on the other. The temple also has a paved court and a large raised congregation hall.
Overnight hotel-Imphal
Day 14 : Imphal / Aizwal by flight
Morning after an early breakfast transfer to airport for the flight towards Aizwal .Arrive Aizwal and check in at hotel.
Overnight hotel- Aizwal
Day 15 : Aizwal
Morning after breakfast go for sight seeing in Mizoram visiting The Museum and Mini Zoological Garden at Aizawl, Bung (picnic spot), and Paikhai. Evening free at leisure.
Overnight hotel- Aizaul
Day 16 : Aizal / Agartala (350 kms, 6 hrs drive)
Morning afte4r breakfast depart for Agartala, the Capital of Tripura. Arrive and check in at hotel.
Overnight hotel- Agartala
Day 17 : Agartala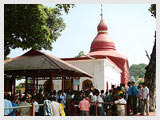 Morning after breakfast excursion to the lake city Udaipur , Udaipur : The main attractions in Udaipur are Tripura Sundari Temple, popularly known as MATABARI, one of the 51 pithas of Hindu Puran, Bhuvaneswari Temple, Gunabati group of Temples, Vast Lakes with scenic beauty.
Tripura Sundari Temple: This temple is one of the 51 pithasthans in India as per Hindu mythology. As per mythology, Lord Vishnu had cut off the body of Mata Sati into 51 pieces by Sudarshana Chakra and all these pieces fell at different places throughout the country and these places are known as pithasthans. It is said that 'right foot' of Mata Sati fell at Matabari. This pithasthan is also known as Kurma Pith because the shape of the temple premises resembles to that of "Kurma" namely tortoise. Inside the temple, the idol of Maa Kali is kept which is made of 'reddish black Kastic pathar.' Maa Kali is worshipped in her 'Soroshi' form in this temple. There is an idol of smaller size of Maa Kali called 'Chotto Maa 'and this image used to be carried by Maharajas of Tripura during "Mrigaya" namely hunting and also during war.
The temple consists of square type sanctum of the typical Bengali hut type structure with a conical dome. The temple was constructed in 1501 A.D. by the then Maharaja Dhanya Manikya.
In the eastern side of the temple there is a famous Kalyan Sagar where fishes and tortoises of huge size are found and devotees feed them with "muri" and biscuits. No fishing is permitted in the Kalyan Sagar. Every year on Dewali, a famous Mela takes place near the temple which is visited by more than two lakhs pilgrims.
Also visit:
Neer Mahal: This magnificent lake palace was constructed as a summer resort in 1930 by late Maharaja Birbikram Kishore ManikyaBahadur in the middle of a natural lake called Rudrasagar having an area of 5.35 Sq.Km. The construction was undertaken by Martin & Burn Co. and it is the only lake palace in the entire eastern India.
A good combination of Hindu and Mughal architecture is noticed on the domes of the palace. There are mainly two parts of the palace - one on the western side known as Andar Mahal which was used by the royal family and another on the eastern side which was used for the security personnel and servants. There are 15 rooms in the main Andar Mahal. There is a beautiful garden laid in the western side of the palace. In the garden there is an open stage where drama, theatre, etc. use to be organised.
Maharajas used to go by motor boat to the palace from Rajghat.
In water number of migratory birds are found in the lake surrounding Neermahal.
Kamalasagar Lake: Vast lake at the border of Bangladesh was excavated by Maharaja Dhanya Manikya in 15th century. On the bank of Kamalasagar, there is a famous temple of Goddess Kali dating back to 16th century. It is one of the excellent picnic spots in the statewith scenic beauty.
Later return to Agartala.
Overnight hotel- Agartala
Day 18 : Agartala / Silchar (280 kms, 5 hrs drive)
Morning after breakfast drive to Silchar. Arrive and check in at hotel.
Overnight hotel- Silchar
Day 19 : Silchar / Shillong (340, 7 hrs drs drive)
Morning after breakfast depart for Shillong, the Scottland of East.Arrive Shillong and check in at hotel
Shillong: Day long picnics amidst smokey blue hills thick with pine and orchids, singing brooks and crashing waterfalls…for the british in this garrison town it was home. The scenic khasi hills reminded them the Scottish highlands – just perfect for those summer holidays away from the heat and the dust of India's plain. Evening free at leisure.
Overnight hotel- Shillong
Day 20 : Shillong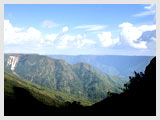 Morning after breakfast city tour of Shillong visiting: Ward's Lake ( also famous as Shillong Lake ) and the landscaped Lady HydariPark which also has a mini zoo.
The old churches of Shillong : The town is dotted with fine old churches of which the Cathedral of Mary Help of Christians is mostfamed for its stained glass windows and lofty arch.
Shillong Golf Course: Shillong's popular 18 hole golf course (referred to as the Gleneagles of the east) holds its annual tournament in October, when these khasi hills are at their prettiest
Shillong Peak (1965 m): About 10 kms from the town, it offers breathtaking views of the city spread out against its glorious hill slopes. If time permits visit the Bishop Falls, Beadon Falls and the three step Elephant Falls.
Evening free to roam around in the famous Mall.
Day 21 : Shillong / Cherapunjee / Shillong
Morning after breakfast drive to Cherapunjee.
Cherapunjee: Once world renowned for being the wettest place on earth, cherapunjee is impressive with its gushing waterfalls and the deep gorges. You get stunning views of the plains of Bangladesh. Cherapunjee's orange and honey are famous and you can pick up fine baskets from the Sohra Market.
In cherapunjee visit, Krem Mawmluh cave: This cave is located half a km west of Cherrapunjee adjacent to the small hamlet of Mawmluh. The cave has five river passage with impressive proportions. The cave has a length of over seven Kms.
Also visit Cherapunjee's famous waterfalls: Close to the town are glorious Nohsngithiang Falls ( Mawsmai Falls), Dainthlen Falls, Nohkailikai Falls (world's fourth highest) and many smaller falls. The stunning gorges are worth all that film you carried with you.
Later return to Shillong.Evening free to visit the famous Mall.
Overnight hotel- Shilong
Day 22 : Shillong / Guwahati Departs (85 Kms, 3 hrs drive)
Morning after breakfast drive to Guwahati.
En route visit, Borapani Umiam Lake , Locate4d about 17 kms from Shillong, Umiam Lake is highly popular for a relaxing time. The Orchid Lake Resort here has watersports facilities and the nearby Lum Nehru Park has an aviary and orchidarium.Arrive Guwahati and in time transfer to airport for the onward destination
Tour concludes : We thank you for your patronage & looking forward to serve you in near future.
Free Tour Customization
from Experts