Classic India Heritage Tour
Classic India Heritage Tour
Duration: 11 Nights & 12 Days
Routing: Delhi - Jaipur - Agra - Gwalior - Orchha - Khajuraho - Varanasi
Tour Highlights
Delhi
Red Fort, Raj Ghat, Jama Masjid, Chandni Chowk, India Gate, President's House, Humayun's Tomb & Qutub Minar
Jaipur
Elephant ride to Amber Fort Palace , City Palace, Jantar Mantar (Observatory) & Hawa Mahal (Palace of Winds)
Fatehpur Sikri
Akbar's Residential complex, Mosque & Tomb of Salim Chisti
Agra
Taj Mahal, Agra Fort, Sikandara
Orchha
Orchha Fort, Jahangir Mahal, Raj Mahal, Ram Raja temple
Khajuraho
Temple Complex - Kandariya Mahadeo, Chaunsat Yogini & others
Varanasi
Excursion to Sarnath, Boat Ride & Explore ghats
Detailed Itinerary
Day 01: Arrive Delhi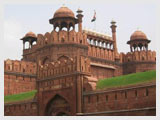 Arrive by International flight, after traditional 'Swagat' (Welcome) our representative would assist you at airport & transfer to hotel for check in.
Delhi is a bustling metropolis, which successfully combines in its folds the ancient with modern.Its strategic location was the prime reasons why successive dynasties chose it as their seat of power. In fact, more mythological cities are believed to be here, like the city of Indraprastha from the Hindu epic Mahabharata, founded around 5000 BC. Numerous monuments were built over several centuries by different rulers like Qutub-ud-din Aibek, Alauddin Khilji, Tughlaks, Humayun & Shah Jahan, who built the Walled City Shah Jahanabad.
Later in first half of 20th century much of New Delhi was planned by Sir Edwin Lutyens, who laid out a grandiose central administrative area as a testament to British rule in India. The division in walled city & New Delhi also marks the division in life styles.
Overnight Hotel – Delhi (B)
Day 02: Delhi
Full Day Tour
Today we take a guided tour of Old Delhi, the 17th century walled city of Shah Jahanabad, Visiting the great Jama Masjid, the principal mosque of Old Delhi. Built in the year 1656 AD by the Mughal Emperor Shah Jahan, it is the largest & best known mosque in India. Later we walk down or take a rickshaw ride through Chandi Chowk, the old marketplace of Shah Jahanabad now a picturesque bazaar to reach Red Fort, built in the year 1648 by Shah Jehan.
In New Delhi, we visit Raj Ghat, memorial to the Father of the Nation, Mahatma Gandhi. It is a simple black marble platform that marks the spot of his cremation on 31 January 1948. Further we drive past India Gate, memorial built in the year 1931 to commemorate the Indian soldiers who died in the World War I & the Afghan Wars. The names of the soldiers who died in these wars are inscribed on the walls. President's House, the official residence of the President of India, built in the year 1931. Until 1950 it was known as Viceroy's House & served as the residence of the Governor-General of British India. We will also visit Humayun's Tomb, memorial of Mughal Emperor Humayun, built in the year 1562. The complex is a World Heritage Site & the first example of this type of Mughal architecture in India. Qutub Minar, built in the year 1206 by Qutub-ud-din Aibek. It is the tallest (72m) brick minaret in the world, an important example of Indo-Islamic Architecture. Qutub Minar & its monuments are listed as a UNESCO World Heritage Site.
Overnight Hotel – Delhi (B)
Day 03: Delhi – Jaipur (262km - 5hr)
Today we drive to Jaipur, popularly known as Pink City, the flamboyant & colourful capital of Rajasthan. With its rich & colourful past, resplendent with tales of valour & bravery, it is now one of the most important heritage cities in India. The city was founded in the year 1728 by Maharaja Sawai Jai Singh II, the ruler of Amber. It remains the only city in the world symbolizing the nine divisions of the universe, through nine rectangular sectors.
Overnight Hotel – Jaipur (B)
Day 04: Jaipur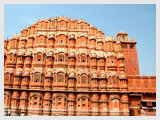 Full Day Tour
Today we take an excursion to Amber Fort, the palace complex which stands to this date was commenced under the reign of Raja Man Singh. We take an Elephant ride to reach the Fort situated on the hill, an overwhelming experience.
Later we visit the City Palace, a perfect blend of Rajasthani & Mughal architecture. The center of the palace is a seven-storied building called Chandra Palace, with fine views over the gardens & the city. Further we visit Jantar Mantar (Solar Observatory), an astronomical treasure house, with solar devices that give accurate predictions till date. We also visit Hawa Mahal (Palace of Winds), a five-storied structure of pink sandstone. It was built in the year 1799 so that veiled royal women could peer down the busy street market unseen by the world through its 593 stone Jharokas (mini windows).
Overnight Hotel – Jaipur (B)
Day 05: Jaipur – Agra via Fatehpur Sikri (260 km - 6 hr)
Today we drive to Agra, en route we will visit Fatehpur Sikri (Ghost Capital), the political capital of India's Mughal Empire under Akbar's reign, from the year 1571 until 1585, when it was abandoned, ostensibly due to lack of water. We visit Emperor Akbar's Residential complex, Mosque & Tomb of Salim Chisti.
Further we continue our drive to Agra, beautifully situated on the banks of river Yamuna. It achieved prominence as the capital of the Mughal Emperors from the year 1526 to 1628, remains major tourist destination because of its many splendid Mughal-era monuments, most notably the Taj Mahal, Agra Fort & Fatehpur Sikri, all three are UNESCO World Heritage sites.
Overnight Hotel – Agra (B)
Day 06: Agra
Today we visit Taj Mahal ( closed on Friday), symbol of eternal love, which stands on the banks of River Yamuna. It was built by the 5th Mughal Emperor, Shah Jahan in the year 1631 in memory of his wife, Mumtaz Mahal. It was completed in 22 years. Further we visit Agra Fort, taken over from the Lodhis by the Mughal Emperor Akbar in the late 16th century. The Fort can be more accurately described as a walled palatial city. It was built from red sandstone, often inlaid with white marble & intricate decorations. We will also visit Sikandara, Akbar's tomb. His son Jahangir completed the construction of the tomb in the year 1613.
Overnight Hotel – Agra (B)
Day 07: Agra – Gwalior (Shatabdi Express Dep. at 0800-0930 hrs.)
Morning post breakfast on time transfer to railway station to board the train for Gwalior. Upon arrival assistance and check-in hotel.
Gwalior, a city whose history dates back to 8th century is a mosaic of the Rajput clans of the Pratihasas, Kachwahas and Tomars, each leaving their marks on the city's magnificent monuments. Later in the afternoon our guide will take you for a sightseeing of Gwalior city which comprises of visits to the Gwalior Fort, Jaivilas Palace and tombs of Ghaus Mohamed and Tansen. Evening at leisure and overnight stay at hotel. (B)
Day 08: Gwalior – Orchha(130 km/ 03 hrs)
Morning post breakfast we will drive to Orchha. Orchha has a medieval town atmosphere attached to it. The Betwa River quietly flows by the town. The 16th century palaces and temples built by its Bundela rulers appear to be suspended in time. Upon arrival assistance and check-in hotel.
we will visit Orchha Fort, Jahangir Mahal, Raj Mahal and Ram Raja temple.
Overnight hotel - Orchha (B)
Day 09: Orchha - Khajuraho (150 kms - 04 hours)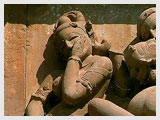 Today we drive to Khajuraho, well known for its magnificent temples which are among the most creative examples of the Indian architecture. Built between 950 and 1050 A.D, only 22 temples out of 85 now survive. Khajuraho sculpture is sublime and sensuous, the centre of new imagery in art. The popular theme is woman: reflective, playful amorous. The carving also depict Griffins, Nymphs, Beasts, Demons in revolt, Gods in cosmic evolution, fear, doubt, jealousy, ardent love and consummate passion. Upon arrival assistance and check-in hotel.
Overnight hotel - Khajuraho
Day 10: Khajuraho – Varanasi (by flight) IT 334 1220/1300 hours
Today we will take you for a sightseeing trip to Khajuraho temples, built by the mighty warrior kings of the Chandela dynasty, in a truly inspired burst of creativity. The temples are famous for the magnificent carvings depicting numerous sexual postures of the famous "Kamasutra", ancient Indian work on sex. Only 22 temples survive of the 85 originally built. In fact, worship is still done today in the Matangeshwara temple, continuing an unbroken 1000 year tradition.
Later we drive to reach on time to the airport to board the flight to Varanasi, the oldest and the holiest Hindu city, known for its Hindu traditional customs and rituals. We meet and assist you on arrival at Varanasi airport and help you check-in at our hotel.
Overnight hotel - Varanasi (B)
Day 11: Varanasi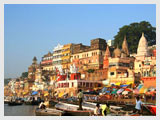 Half Day Tour
Today we start our day with a boat ride on the river Ganges. Rise before dawn & step gingerly in the boat as the boatman starts rowing the boat. Witness the daily miracle to unfold, as the Sun appears triumphantly over the horizon. The sound of conches & temple bells add to the delicate pink fabric of dawn. The formerly hushed murmuring of ancient Sanskrit Shlokas (hymns) now rise, in one voice, to a crescendo of unparalleled piety & joy. Later we explore the city by foot to get the feel of this Oldest living city of the world.
Later today we take an excursion to Sarnath, the site of the deer park where Gautama Buddha is said to have given his first sermon about the basic principles of Buddhism. It has been a premier centre for Buddhism & has a rich collection of ancient Buddhist relics & antiques comprising numerous Buddha & Bodhisattva images on display at the Archaeological Museum.
Overnight Hotel – Varanasi (B)
Day 12: Varanasi - Delhi (by flight @ SG 119 1615/1730 hours) departure
today the whole day is at leisure .
In the evening transfer to Varanasi airport to board flight for Delhi. Arrive Delhi, transfer to international terminal to board our flight for onward journey.
Our tour concludes: We thank you for your patronage & look forward to serve you again in near future.
Package includes:
11 Nights accommodation on double sharing basis.
Daily Breakfast
Assistance on arrival & departure
all tours and transfers by a/c Tata Indigo car
Local English speaking guide during the tour
A/C chair car train fare for the sector Agra - Gwalior.
Elephant ride in Jaipur
Boat ride in Varanasi
Package does not include:
Any airfare or airport tax.
Any Monument entry fee & camera fee.
All presently applicable taxes.
Any expense of personal nature such as hard/soft drinks, laundry, phone/fax calls, tips etc.
Any other expense not mentioned in the "Package includes".
Free Tour Customization
from Experts